Launching a product line globally is a massive undertaking.  If you want to reach your target audience the fastest way, a global influencer agency is exactly what you need.
A Global Influencer Agency connects companies with the right influencer according to niche or industry.  Top-tier brands that want a worldwide reach get a great return on their investment through these influencers.
What is a Global Influencer?
A Global influencer is what an influencer agency manages, and is assessed by the number of followers and how this influencer engages with the fans. Global influencers have millions of followers and have the power to sell out products in minutes.
Let a global influencer show the public a new lip tint shade, and the followers would try it, no doubt.
Have an international influencer use a product, and the people would follow suit.
A blogger writes about the product, and the followers understand the product more.
This is influencer marketing on the rise.
Some Global Influencers:
The number of followers that you have and the niche you are in will determine if you are to be a global influencer or not. But with millions of followers, you could earn a spot on brand endorsements. Some of these global influencers are usually singers, athletes, or actors.
Take for example Jennie Kim, who has 48 million followers on Instagram and has consistently sold out her endorsed brands in minutes.
Black Pink's Jennie Kim
@jennierubyjane is Jennie Kim's Instagram account with 48M followers.
The BLACKPINK member has brand endorsements under  South Korean luxury beauty brand Hera, KT Corporation, South Korean telephone company, Lotte Confectionery, soju brand Chum-Churum, and more.
Jennie is also the brand ambassador of Chanel Korea Beauty, her most significant endorsement and, according to her, a dream come true.
Vogue Korea also got her as one of its fashion editors for its March 2021 issue.
Cristiano Ronaldo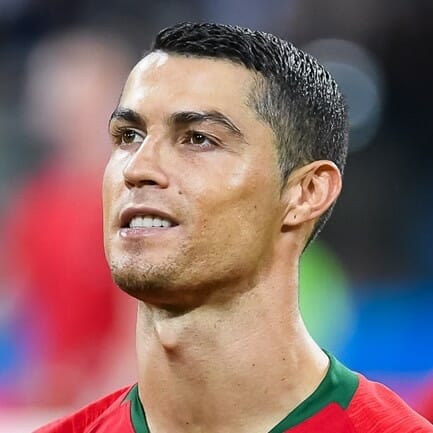 Cristiano Ronaldo dos Santos Aveiro is a Portuguese football (soccer) forward who is one of the greatest players of his generation. He has a whopping 316M followers on his @cristiano Instagram account, which makes him the number one most followed influencer.
He was called Ronaldo, because of his father's favorite actor and then president during his birth Ronald Reagan.
His extreme popularity paved the way for him to become one of the highest-paid endorsers in sports history. Consequently, in 2016 he became the third person to earn a lifetime contract from NIKE. Moreover, his own successful "CR7" -branded clothing, accessories, hotels, and gyms, have been hitting goals too.
Dwayne "The Rock" Johnson
The Rock has 255 M followers on Instagram alone with his account @therock.
Dwayne Johnson started as a Professional Wrestler and is now a famous actor. He has been endorsing Under Armour and has his latest Project Rock Collection of 2021, The Breaking Barriers Collection breaking barriers as it is believed to have secured the second spot to Nike (that used to belong to Adidas).
What is Influencer Marketing?
Influencer Marketing is building relationships with people that can reach and engage your target audience.
Influencer Marketing is the buzzword these days.  People start to engage themselves more and more in their social platforms. Hence, marketing has taken advantage of this trend.
There has never been a time when there is a much more growing clamor for photos, videos, posts, publicized relationships, connections, etc., than today.
Influencer Marketing has taken on a different form in this age of social media campaign hullabaloo. Decades ago, the world was using influencer marketing in a different light.
BEFORE
Before, the products were endorsed by the chosen endorsers or models through advertisements made by a marketing agency. These ads are shown on various marketing media and even live appearances. All of these are to convince the public to trust, buy, and use their brands.
NOW
Now, the endorsers of the brands are those that have been known in every social media platform worldwide. These influencers have been using social media long before they became brand influencers.
They are those that have already built their community of followers in the niches they have chosen. They use their popularity to reach not only a  million but millions of online traffic worldwide.
THAT IS WHY
That is why the growth of this kind of Influencer Marketing has set a more significant stage in the worldwide community. Award-winning influencers were discovered and reached out for better collaboration with other industry partners. Fantastic brands, content, campaigns, and fashion are now more accessible to everyone.
What are the Activities of a Global Influencer Agency?
A global influencer agency or an influencer marketing agency collaborates with brands and social media influencers.
The activities aim to strategize accurate plans that convert into followers. In the end, all these lead to sales of the products they are marketing.
More than the influencer followers, it is necessary that these followers can convert into product followers. Influencers alone cannot always produce the results.
The influencers must collaborate with a team of professionals who can create real solutions. These solutions are effective and will ensure sales on the part of the brand makers.
Digital Delane, a Global Influencer Agency
One of the primary services of Digital Delane is Influencer Marketing.
Digital Delane is a full-service LA-based digital agency serving clients in the US and globally. We help clients around the world bring new brands, campaigns, and ideas to life.
Moreover, we have been helping brands as a global influencer agency through digital and social media marketing strategies that convert into sales.
As a marketing agency,  we make sure we look at all possible angles of a client's brand.
We always aim to give the brands the right influencers they need and the campaigns that will engage and build their credibility.
Meet Juntae Delane, the Branding Expert
It all started with Juntae Delane, a keynote speaker and chief branding strategist of the Digital Branding Institute.
Juntae has over 15 years of experience bringing digital marketing to a higher level.  Consequently, his work was featured in several publications.
With this background, business owners have the full assurance that the Digital Delane team has the expertise and skills to grow any business.
To effectively reach and engage millions of clients and customers worldwide, we utilize new channels and adjust our strategies as fast as clients' expectations.
Hence, we help clients campaign their Global influencers and their brand campaigns to ensure community following and, most importantly, build the people's trust. All these eventually lead to their brands' integrity.
At Digital Delane, we are experts in:
Influencer marketing strategies
Influencer matchmaking
Content strategies
Campaign management
Tracking and measurement
Social media advertising
Production and content creation
We believe in these core values that dictate how we handle you, our clients, and the visions you have: Curiosity, Quality, Integrity, Creativity, and Collaboration.
CURIOSITY
CURIOSITY is what we feel when we have you as a client. The more we peek into your given situations, the more we learn and feel the tremendous excitement to help you achieve your goals.
QUALITY
QUALITY outputs are what you deserve.  We assure you of the best treatment.  Moreover, quality is not the best in the market but beyond it.  We believe in creating what surpasses the status quo.
INTEGRITY
INTEGRITY is vital in a marketing agency; that we are transparent and honest in dealing with you. This covers everything from our ideas to opinions that will always be about your best interests.
CREATIVITY
CREATIVITY that will make you unforgettable as a brand. Hence, you will stand out. It is not just about solving your problems, giving you solutions, and showing you how to do it the best way with the best results. Therefore, you will stick out as the best global influencer.
COLLABORATION
COLLABORATION makes us more powerful with a highly competitive group in tune with data management.
As a global influencer agency,  we make sure we look at all possible angles to analyze client needs. By doing so, we could give the brands the right influencers they need. Moreover, the campaigns will engage and build their credibility and create awareness for the target market.
Our approach to influencer marketing is not so complicated as it seems. When you know the strategies, the processes that convert data into leading brands and effective global influencers, campaigns will always be like a walk in the park.
We learn your business.
After knowing all these, we then start to create a customized strategy fit to your needs that ensure the performance we promise to deliver; that are effective results and, what more – outstanding results.
After learning about your goals, products, and industries, we then begin a complete in-depth data gathering on your competitors using competitive analysis software.
 We will use everything that we will find out during the investigation to create a Competitor Intelligence Report.
  We will present this Competitor Intelligence Report to your team to support us on our strategic recommendations.
 All this data will be the foundation of the decisions we shall be making and choose among our recommended ideal influencers for you.
We research your target audience.
The first thing is to research your target audience using the data we had gathered when we were learning about your business.
●      We need to know who follows your industry, building a buyer persona.  This includes:
First, those within your network.
Or better yet, those in your contact/mailing lists.
They could also be those who previously joined your events.
As well as consumers of your services or products.
And finally, they may be those who click your websites and visit your social media accounts.
●      Moreover, we will also find out who is already connected to you, both locally and globally.
●      In this light, we need to know what network your audience is already growing or not.
●      In addition, we also need to know if the focus of your industry is connected to you in full or not.
●      More so, we need to see how the performance of your previous advertising campaigns have been.
We focus on what your audience wants.
As we focus on what your audience wants, we need to get their feedback. That feedback is valuable.
With this data, we can utilize an influencer marketing strategy that appeals to and resonates with your audience.
Develop Your Influencer Strategy
Now, we create your custom, performance-driven influencer strategy. This strategy will be based on our research and develop a campaign that considers the search patterns of your target audience and their influencer preferences.
Affiliate Marketing
Social Media Mentions
Guest Posting
Co-creating Content
Discount Codes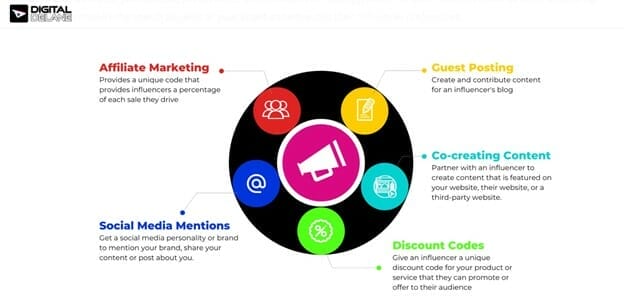 Once the outreach specialist assigned to you completes your strategy, they share it with you for approval. You are encouraged to ask questions and give suggestions. When you approve the plan, the next step is launching your influencer marketing campaign.
Identify Your Market's Influencer Network
We are now going to identify your market's influencer network. With the data and a developed custom design, we make a list of influencers in your market.  The list your specialist creates focuses on the influencers that align with the overall strategy of our marketing agency.
Take note of this though, the list of influencers we will be giving you are those that align with your overall strategy and your appropriate price point.
Choose Your Influencer / Brand Representative
As a global influencer agency, we guide you in choosing the right brand representative for your company.
We do not depend entirely on the number of followers a particular influencer has. We also need to analyze the credibility, engagement rate, and the general public perception of this influencer.
Following our in-depth assessment of influencers, we compile an influencer matching report, including estimated costs.  This report provides an overview of potential influencers to partner with, as well as a summary of their performance.
However, the final decision still rests in your hands. We shall always make available all the necessary reports that are the basis of our recommendations to you.
Secure Your Influencer
Once you have chosen your influencer, we reach out.  If the influencer is interested in representing your brand, our team begins arranging their services.
For your convenience, we handle all the legal aspects of the campaign, including contracts.
Your company will be in the loop about the management of influencer marketing campaigns. You will receive a full update on the life cycle of the campaign and provide in-depth analytics. If there are needed adjustments based on your company's needs, we also consider these.
Create Your Creative Brief
We move forward in launching your influencer marketing campaign by developing a creative brief with your influencer.  This brief provides an overview of the content your influencer will create and the details of the key messages that will appear in the content.
This creative brief serves as a content blueprint. Rest assured that the content meets your brand guidelines and aligns with your digital marketing goals and that you are welcome to provide feedback and suggestions. Your influencer will start creating the content once you approve of the creative brief.
Launch Your Influencer Content
After your influencer has created the content, our team reviews them. We check the visuals and messaging and ensure that the content aligns with your brand guidelines. After our review, we will share it with your team.
As part of our influencer marketing services, we do not greenlight any content for publishing without your approval.  Hence, we recommend that you review the content and provide feedback as soon as possible, primarily if the content focuses on seasonal events, limited promotions, or holidays.
Once you approve, we give your influencer the go signal to publish.
Monitor Your Campaign's Performance
Our agency relies on data in everything we do, so we understand the importance of data. This is the reason why we will provide your company and dedicated outreach specialist the resources to track the performance of your influencer marketing campaign.
How?
We set up Google Analytics to track conversions, custom goal completions, and traffic from influencer referrals.
There is a unique tracking code that we have developed for your sponsored posts, which allows your team to identify which users came from influencer marketing.
Report Your Results
We report your results because we understand that digital branding and influencer marketing are new investments for many companies.  When you work with Digital Delane, you will realize that influencer marketing is a powerful strategy that brings in more customers and converts audiences to loyal followers.
We assure you that when you are with Digital Delane, you are in good company.  This is the global influencer agency where achieving your goals in the soonest possible time truly matters.
Let Digital Delane Connect You with the Right Global Influencer
Start your influencer marketing with a global influencer agency such as Digital Delane. Schedule a discovery call and let us jumpstart your promotion or launch in the international market.