Whether you're looking for an agency to help you achieve your digital marketing goals,
or are a customer in need of support, we are here to help.
Have a question or not sure where to start?
Get a FREE One-on-One Consultation
We believe human experiences drive business. At Digital Delane, our digital marketing strategy establishes 'human experience' as the principal benchmark to find useful and desirable outcomes for our clients and their customers.
We draw upon logic, user behavior, and systemic reasoning to match people's needs with what is technologically feasible. That way one is not caught looking inward and can learn from technology-driven innovations happening across industries. Our digital marketing strategy experts establish a continuous cycle of reflecting, observing, and making – driving us to understand the present and anticipate the future. That's the Digital Delane Formula, and it's what sets us apart.
  Business Needs Analysis
  Go-to-Market Strategy
  Direct-to-Consumer Strategy
  Customer Experience (CX) Consulting
  UX Research
  Customer Journey Mapping
  eCommerce Strategy Consulting
  Mobile Strategy Consulting
  Integrated Campaigns
  Experience Optimization
  Content & Personalization
  Measurement & KPIs
BRAND BEHAVIORS
A digital strategy roadmap is two things: a digital strategy, and a roadmap. You can't have one without the other. Developing a digital strategy without a roadmap gets you nowhere. And following a roadmap without a strategy has no direction. You get the metaphor.
We begin by understanding who you are now, where you want to go, and who you want to sell to. Then we outline how you're going to get there. Next, we set your milestones and map out what it's going to take to achieve each one, step by step.
DISCOVERY
Who are you today and where do you want to go?
Every strategy, every roadmap begins with a good, hard look at where your organization is today. This involves examining your digital metrics, sales, products or services, and capabilities.
What has happened over the past year to get you to this point? Who are your competitors? What are they doing and where are you positioned in relation to them?
Based on your current situation, where do you want to go? Do you need to adapt to a new competitor, market, or technology? Why a new digital strategy and roadmap now? What is it expected to do for your business?
These types of questions are asked in our client brief and used to build your roadmap. We consider ourselves coaches and consultants first. We want to help you learn what has and hasn't worked for you in the best, so we can help you grow your brand in the future.
TARGETING
Define your target market.
We take a step back and look at your market — the people you currently sell to, and those who you want to sell to. We consider:
Who bought your products or services over the past year? 

Who didn't and why? 

Did this match your expectations — in terms of volume and the type of person you thought you would attract? 

Are there market segments you would like to attract, but currently aren't? 

Do you need to position yourself to capture emerging markets? 
Did you answer "I don't know" to some of these questions? That's understandable. Sometimes clients don't know precisely why a strategy didn't succeed as hoped, didn't attract the established target market, etc. We can help answer those questions for you, with our unique perspective and considerable experience in the digital branding sphere.
Once we've answered these important questions, we focus on who your prospects are, where they live, and what motivates them to buy.
OBJECTIVES
Set measurable business objectives.
Before we even think about building a strategic roadmap, we clarify what you want to accomplish. What is the business opportunity? How do you want to change, evolve, grow, compete? We work with the client to define specific goals that will drive the strategy. Lastly, we assign a realistic, measurable target to each objective.
STRATEGY
We outline the how, and the why
It's time to roll everything we've learned about your current situation, target market, and objectives into a digital marketing strategy.
For example, you might identify that your target market is 40-ish professional women who are looking for career opportunities. With this in mind, how do you get their attention and inspire them to do what you want them to do (meet your objectives)? How you reach them — for example, the type of content, ad and marketing messaging, and sales process, paired with the reasons why you should use these methodologies — is your marketing strategy.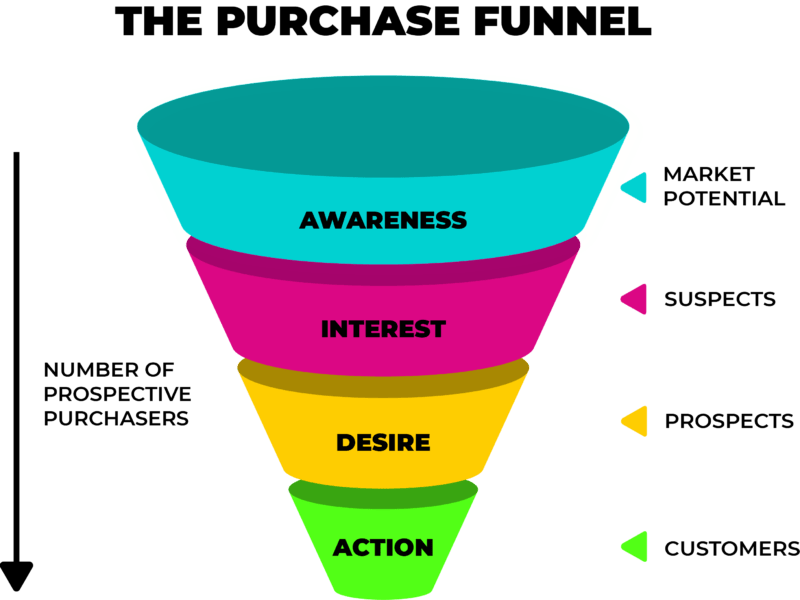 Once we have defined the methodology, we can take your strategy to the next level by outlining how these processes will work together. For example: how will your social media content drive to the blog, and how will your white paper be used to generate leads? 
Your strategy is the high-level plan behind all your digital marketing activities. The specifics — which channels, content pieces, networks, ad formats — are your digital marketing tactics.
MILESTONES
Define key milestones
Now it's time to switch from the ideological to the tactical. We determine the key milestones between where the client is now and where they want to be. We define these milestones and align them with key performance indicators — in other words, give each milestone a measurable success metric, such as the revenue generated or a number of subscriptions.

TACTICS
We outline the tactics, timeline, and budget to meet these milestones.
In line with your marketing strategy, we break down the tactics you will be using to meet each of your milestones. For example, you may gather leads for email marketing to promote a beta launch of your product. Or maybe you will use paid search to generate sales during peak sales seasons.
This is your digital marketing plan and your roadmap. We map them out on a timeline and assign a budget to each activity. Additionally, we ensure that each tactic realistically aligns with the success metrics you assigned to each of your milestones.

MEASURE
Measure the results, learn and optimize.
Once we implement each project along your digital roadmap, we make sure the mechanisms are in place to track and measure its performance. We compare actual metrics to your KPIs and determine if your projects are meeting their targets. If not, we determine how you can adjust your tactics, targeting, and messaging to improve performance. Then we rinse and repeat for every step.
A digital strategy roadmap does two amazing things at once: it enables you to orient your organization around a big picture strategy and long-term objectives, while also showing you the way, step-by-step, to reach those objectives.