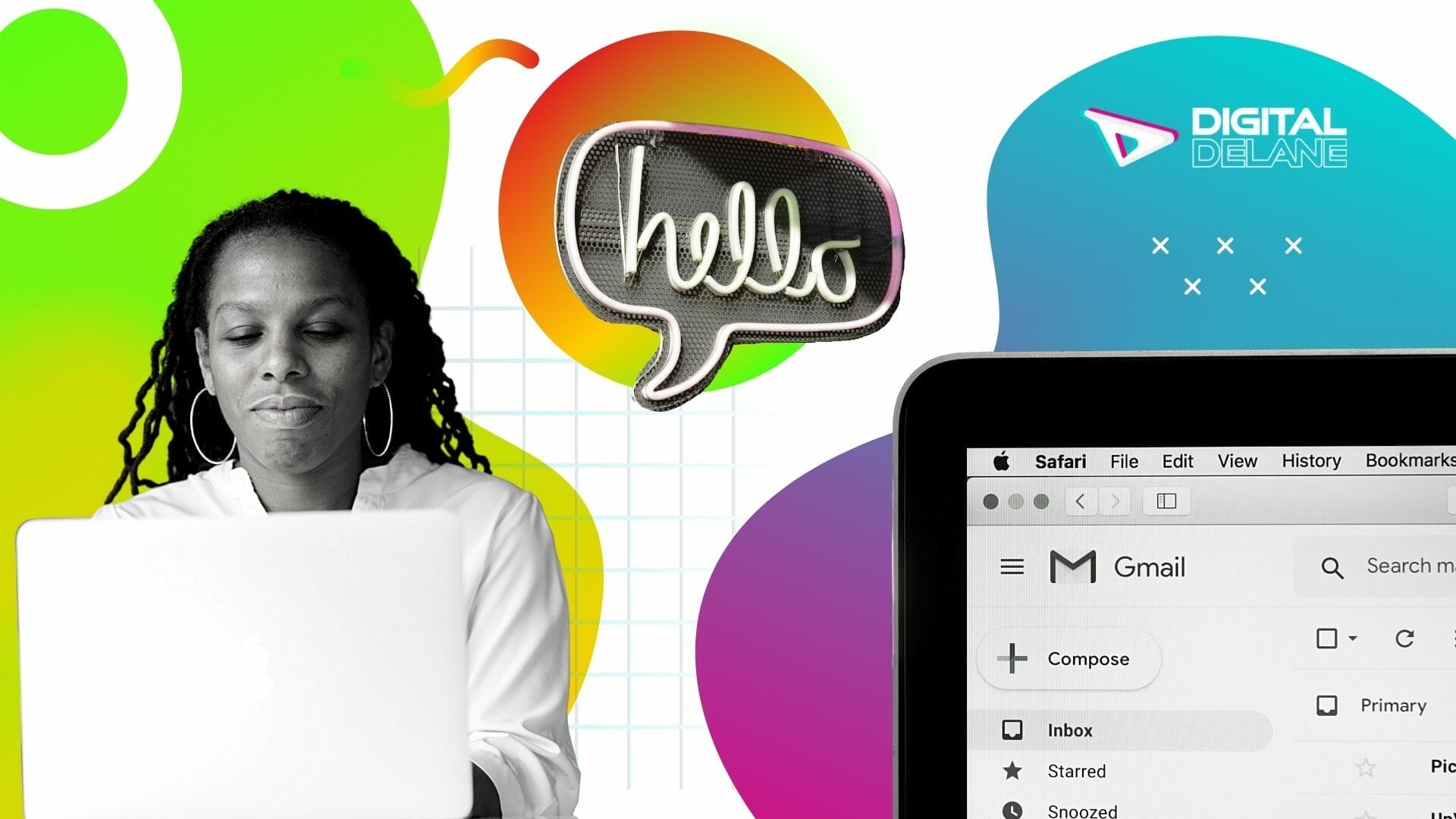 Email Marketing Tips for Cost-Effective Campaigns
As an owner of a startup or medium-sized business, you would like to have the most cost-effective marketing strategies. Email marketing can definitely be one of them.
However, this type of digital strategy consists of many moving parts and can be very time-consuming. So we've come up with the top email marketing tips you can use to help grow your business and save you time in the process.
What is email marketing?
Before you begin your email marketing journey, you should know the dynamics of this digital channel. Email marketing sells your products and services to an audience who have opted in to your mailing list. 
While email marketing may seem old-school for some, it could still be a great way to increase your sales. These statistics revealed the number of email users continues to increase annually.
With email marketing as part of your digital marketing strategy, you keep buyers informed of exciting promos, new products, and company news.

Why use email marketing?
It is an efficient and cost-effective method.
When people voluntarily opt-in and become subscribers to your company's newsletters or emails, we consider them "warm leads." 
Unless you're running a campaign to grow your email list, you don't have to spend any money to get this information. They like something about your product or service.
They'll be more receptive when you send them your promotions.
It Keeps you in touch with your audience.
Not all of your potential leads are active on social media or frequently visit your site.
Reaching out to them via email campaigns keeps them in the loop of any news you want to share with them.
Use the following email marketing tips to get started. 
Email marketing tips
Add an email service provider
An email service provider gives you the tools you need to run a successful email marketing campaign. Your digital marketing consultant can help you choose the one best suited to your needs.
Build Your List Strategically
There's a multitude of ways to build your list. First, create an opt-in form on your website for visitors to enter their name, email address, and zip code.
If people like what you're offering, they'll subscribe without you having to give them anything. Other times, people won't subscribe unless you give them incentives.
Offering discounts, providing them with valuable information, or utilizing gated content to potential subscribers works wonders to build your list.
Ways to segment your marketing email list
One essential email marketing tip is segmentation. Segmenting your customers into different categories helps you create targeted emails. This allows you to use directed sales messages for customers in various stages of the buying process. 
Here are some methods for segmenting your email list quickly:
Demographics and geographic area
Segmenting by age, gender, income level, and company position can help you create content geared toward your customers' preferences. This keeps you from bombarding your subscribers with irrelevant content during email marketing campaigns. 
Email Engagement
You could classify your email list into active and inactive subscribers. Focusing on active subscribers increases your open rate, improves your deliverability, and ultimately keeps your emails out of the spam folder. 
Surveys
Using surveys and quizzes at the tail end of emails helps you collect essential data on your customers. This enables you to learn more about what consumers want and their demographics. 
With this information, you can create segmented lists and targeted emails to give customers a personalized experience.
Past purchases
Grouping people based on their past purchases could help you in multiple ways. For example, you can develop promotional email campaigns around your highest selling products, upsell customers by suggesting similar products or create different kinds of product bundles.
Frequency of purchases
Customers with a high-frequency purchase rate are your most important source of revenue. Segmenting them into their category allows you to send them special VIP offers.
People love to feel special. This could create buzz around your company and give you the most powerful type of marketing: word of mouth.
Website behavior
Tracking a subscriber's behavior on your website could help you create targeted emails to increase conversions. For example, let's say one of your product pages gets a high amount of traffic, but no one's made a purchase.
You can segment these people into a list and create an email marketing campaign around the product. It might give them the nudge they need to buy.
Browsing devices
Some people use mobile devices while others use desktops when surfing the internet. These users have different browsing experiences due to the screen size. Make sure to create a version that could be viewed easily on mobile devices too.

Position in Sales Funnel
Segmenting returning buyers from new buyers gives you another opportunity to create personalized marketing emails. Returning customers will be looking for discounts and new products. They know what to expect.
New buyers might not know too much about your company. However, sending "thank you" emails after the purchase with product suggestions or introductory emails with a discount could turn them into repeat customers.
Send Introduction Emails
Notice that you receive an introduction email almost instantly when you subscribe to a link or website. Businesses use this email marketing strategy to let their new subscribers know what to expect. 
You should send out your first email right after the reader hits the subscribe button. Then, let your customers know that they can unsubscribe at any time.
Use enticing subject lines
Consider that people with emails receive tons of advertisements and pitches from different companies and businesses. Therefore, if you want to have an excellent open rate, your subject line should stand out and create curiosity.
Offer Different Lead Magnet Types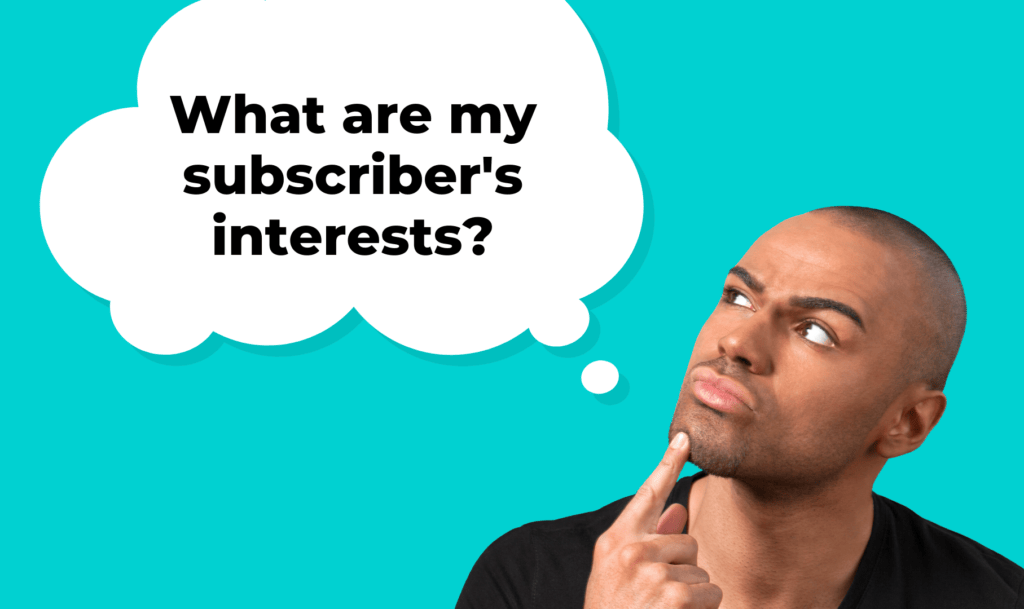 A Lead Magnet Type is an offer or item given away for free to collect someone's contact information. Give your potential subscribers different options. Put yourself into the customers' shoes and think about what would get them to subscribe. 
Create Great Content
The subject line of your marketing email should be clear. It is the field where you attract readers to open your emails. Misleading subject lines could make people mark your email as spam. Create valuable preview text for added benefit. 
The body of your email should engage your reader, offer them something of value and have a clear call to action (CTA).
Stay Consistent with your sending frequency
This helps you build engagement and increases your deliverability rate. The hard part is to find the correct frequency. Send too many marketing emails, and your unsubscribe rate skyrockets. On the other hand, not sending enough drops your deliverability rate. 
It's best to start slow and increase every month. When you see your unsubscribe rate start to go up, take your foot off the throttle.
Personalize Your Marketing
Add your recipient's name to your marketing email to make it personal. It creates a more informal relationship with your customers and makes them feel unique. You could also use an employee's name instead of the company name as the sender. 
Avoid spam filters
Internet Service Providers (ISPs) have a multitude of spam filters. Deceptive subject lines, certain words, the email's body content, and failing to clean your lists are just some of the things you have to avoid.
Make exit intent pop-ups
Prevent your readers from leaving your website without signing up. Create exit intent pop-ups for one last shot at getting them to subscribe.
Use analytics in your email campaigns
Using analytics can help you find strengths and weaknesses in your email marketing campaigns. With this collected data, you can make the necessary changes and improve performance for future email marketing campaigns.
What is email analytics?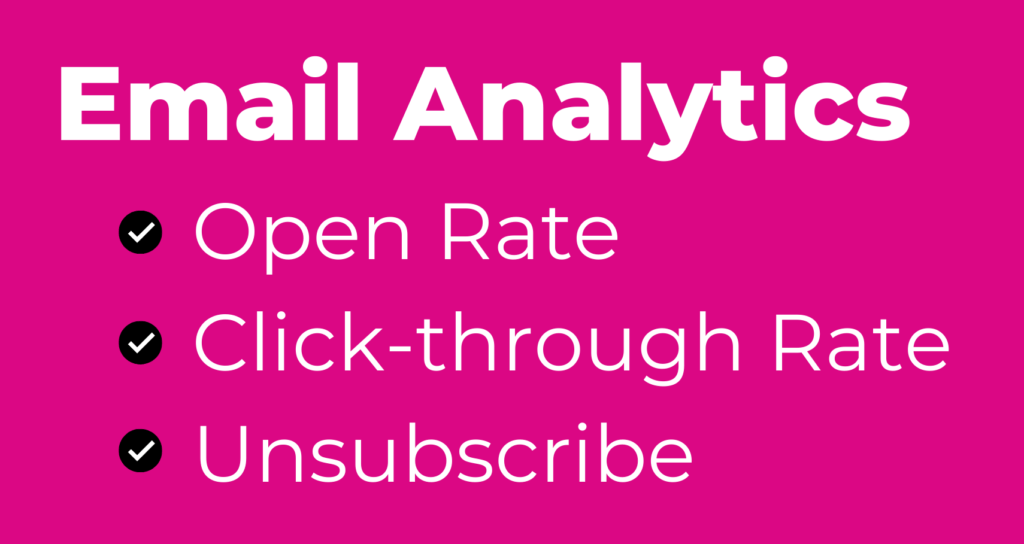 Specific metrics need to be measured to improve your campaign's performance. For example, it's essential to know your open rate, click-through rate, and unsubscribe rate. 
Open rates show the percentage of people who opened your marketing emails. If you have low open rates, it could have something to do with your subject lines. 
Your click-through rate (CTR) shows the percentage of people who clicked through to your website or landing page. If the number is low here, create better calls to action.
If your unsubscribe rate has a low percentage, then congratulations! It means your readers like your emails.
In summary, email analytics gives you the data you need to make your email campaigns a success.
Use A/B testing
Another email marketing tip to consider is split testing. Split tests help you compare different versions of your landing pages, subject lines, or emails to discover the best-performing one.  
Types of Marketing Emails
Before you start creating your marketing emails, you need to know what types you want to use in your email marketing strategy. Each type has its own subject line, messaging, and call to action. It's best to use a multifaceted approach to ensure you have every opportunity to reach your customers.
Acquisition Emails
After readers have given you their email addresses, there is no assurance that they will buy what you sell. Acquisition emails provide different kinds of information or incentives to customers to get them to open it. They're similar to the following type of marketing email but with a less aggressive approach.
Promotional emails
Are your sales on a downward trend? You might need to send email campaigns with promotions to get back on track. By offering discounts or a free giveaway could persuade your subscribers to buy your product or service.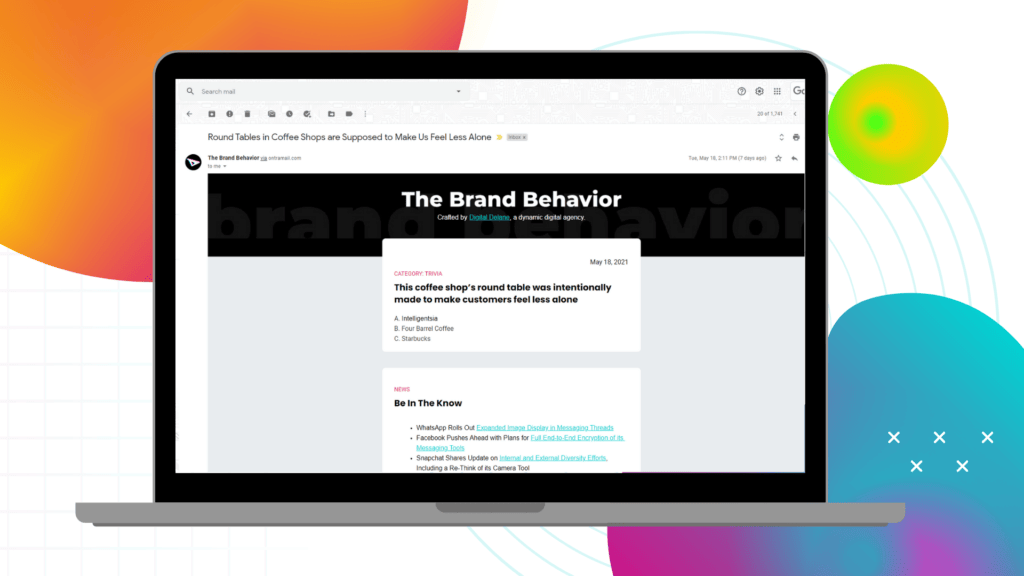 Email newsletters
Besides sales messages, it would help to add entertaining and important information to your email marketing strategy. 
Customers would be more willing to subscribe to your monthly, weekly, or even daily newsletters if they find value in your content.
Upcoming product launches, guides, recipes, or industry trends are examples of what to include in your newsletter.
Retention emails
Retention emails keep your customers coming back for more. Here are two examples of how to use retention emails.
You could send out an email around the time your customer might run out of your product. This prompts reordering. 
Another example would be to send an email to a customer who still uses a free version of your software. Including the features they're missing out on could persuade them to upgrade.
Engagement emails
You could turn to engagement emails to re-engage an inactive customer base. You've probably seen these in your inbox with the headline: "We Miss You!" Create a list of inactive customers and target them with these types of emails. 
Cart abandonment reminders
On average, two-thirds of people abandon their shopping carts. So some companies send out reminders to prompt their potential buyers to complete their purchases. 
Include a compelling call to action of why your customer should follow through with their purchase. It might just be the only thing your buyer needs to complete their order. 
Time-sensitive promotions
People are more likely to click a call-to-action when they see a limited-time offer. So get your customers' adrenaline rushing with marketing emails that offer time-sensitive promotions. Your subject line must show time-sensitive cues, so your buyers know the urgency of the promo. 
Receipt emails
Businesses email clients their receipts after-sales. You could add product or customer service information alongside the order confirmation. Amazon is notorious for including products that are related to the items the people just bought.
Review requests
Online reviews are quickly becoming a determining purchasing factor for most people. Therefore, using marketing emails to gather reviews. 
Reviews help your website rank higher in search engines. They can also give your business, product, or service credibility.
Purchase Status Updates
Maximize your email marketing by sending out updates regarding the status of your buyers' orders. While you are getting their package ready or shipping them out, you could offer other items your customers might be interested in.
You could also include ways on how they could contact customer service. Finally, add any other information your buyer might want to know, such as the expected arrival date or what they have to do upon receipt of the items. 

Effective Email Marketing Strategies
When running email marketing campaigns, you have to strategize in multiple ways. Companies that do it in-house dedicate entire teams to this digital marketing channel. If you decide to do it in-house, here are some effective email marketing strategies.
Leave a mark
Be bold with your content. You want people to read it and go… "Whoa! You just blew my mind!!" This makes it easy for your customers to remember you. 
Make good use of automation
Running a business takes time. It can be hard to send out weekly newsletters. Likewise, replying to every query of each customer might be a hassle for you. 
That's where email automation comes in. You can schedule numerous emails in one sitting. Send out automatic responders for events like new subscriptions, purchase receipts or abandon cart emails. It can make your life easier.
Never abuse
Flooding your customers' inbox with emails would only annoy your readers. This could cause you to lose your hard-earned subscribers. This type of practice could also burn your sending IP address and make your emails go into a spam folder. Find the right sending frequency by starting small.
Ready to Give it a Try?
You now know how to build and segment your list. You know how to develop your email marketing strategy with a focused goal. You know how to create great emails with enticing subject lines. It's time to implement and reap the benefits.

The Direct Marketing Association (DMA) in the UK revealed in their study that there was an average of $38 return on investment for every dollar spent. It showed that email marketing is still one of the most effective digital marketing strategies.
FAQs:
What is the most effective email marketing strategy?
There is no one-size-fits-all when it comes to email marketing. Refer to the email marketing tips above and study your analytics. Make sure to always segment your subscribers to create personalized content. 
How Do You Create a Marketing Email?
Create a subject line to spark interest or curiosity. Write the body of your email with engaging content and keep it short. Use eye-catching graphics to add engagement. Last but not least, create a clear call to action.
What are the types of marketing emails?
There are many types of marketing emails, but the four most common are acquisition emails, promotional emails, email newsletters, and retention emails.
Is email marketing still effective?
Based on statistics, the number of email users worldwide is continuously increasing every year. It is proof that although social media is prevalent, many are still using email as an integral part of their life on the web. 
Can I send marketing emails to my customers?
Of course. Just be sure that what you are offering is something your customers want.
Conclusion
Email marketing can help businesses increase their sales and engage their customer base. But without experience and knowledge in this digital channel, your marketing spend could go to waste. 
As you've just read, many aspects go into a successful email marketing strategy. If it feels overwhelming or confusing, it might be better to hire a professional agency with an entire team dedicated to your success.
Why choose Digital Delane to help you with email marketing?
These best email marketing tips are based on Digital Delane's years of experience helping businesses with their campaigns. 
After studying your target audience and every aspect of your business, we create a comprehensive email marketing strategy to help your business reach its goals.
All you have to do is focus on your business and leave all email marketing to us. Contact us now and start growing your business!