Search Engine Marketing Solutions That Drive Revenue to Your Business
Are you looking for a full-service digital marketing company to help your business gain exposure and get you to the top of Google and other search engine result pages (SERPs)?
Need search engine marketing professionals who are experts at setting up, managing, and optimizing your search ads to reach the right audience at the right time?
SEM or search engine marketing is one of the most effective methods for driving revenue to your business in an increasingly crowded digital marketplace. Yet, SEM is complicated, time-consuming, and can be extremely costly without the help of seasoned professionals.
Digital marketing agencies can help your business get found easily online by people searching for your products and services. Read on to learn more about Search Engine Marketing.
What is Search Engine Marketing (SEM)?
SEM or Search Engine Marketing is a way in which businesses use search engines such as Google and Bing as platforms to capture more leads. Businesses buy ads on search engines to gain website traffic.
Also called "managed search engine marketing" and "search marketing", SEM is done using the two main organic methods such as SEO and PPC or pay-per-click ads. 
SEO or Search Engine Optimization is done through a combination of on-page and off-page optimization methods to improve your website's position in the search rankings.
Simply put, on-page optimization is a process of making changes to your website. On the other hand, off-page optimization incorporates outreach strategies like link-building tactics. 
Furthermore, Pay-per-click or PPC management is done through search engine-offered services such as Google Ads and Microsoft Advertising. 
A full-service digital marketing agency combines SEO and PPC in their search engine marketing services. The goal is to appeal to those who are already searching for your products and/or services. A digital marketing agency may also offer: 
Content Marketing

to make sure your website provides valuable, informative content in the form of blog posts. landing pages, and other forms of content. 

Search Engine Marketing Solutions

like

local SEO

to help your business reach your target audience, which is your potential customers.   

Conversion Rate Optimization

to make your website visitors become customers of your business. 
What are Search Engine Marketing SEM Services?
SEM services consist of paid and non-paid strategies such as SEO and PPC ads to increase your online presence especially on search engines such as Google and Bing.
With managed search engine marketing services, you'll be able to reach your target audience at the perfect moment, which is when they are looking for the products and services that you offer.

What are the Two Main Types of SEM?
SEO and PPC ads are the main types of SEM that can be combined to boost your online presence. In the world of online business, it's never one or the other.
These are two powerful tools in many digital marketing campaigns that increase a website's visibility in search engines. 
SEO for Search Engine Marketing Services SEM
Part of your SEM may also include these SEO strategies:
Keyword research

Custom SEO strategy

On-page, off-page, and technical SEO

Competitor analysis and monitoring

Dedicated account manager

Phone, lead, and revenue tracking

Regular reporting, etc.
SEO is the first component of Search Engine Marketing (SEM). It is a process of increasing website visibility by implementing sub-strategies such as keyword research and content planning. That way, your business ranks organically on the search engine results pages (SERPs).
Internet or online marketing companies should have a sound marketing strategy that will propel your website to the top of the SERPs. Generally, the SEO services of an internet marketing company should include:
On-page optimization

Addition of vital keywords to the content already on your webpages

Addition of alternate texts to your images

Analysis of the links pointing at your website, etc.
Benefits of Search Engine Optimization
The benefits of search marketing or a standalone SEO service can help your business immensely. Mainly, it can help improve web traffic, boost your conversion rate and increase revenue year after year.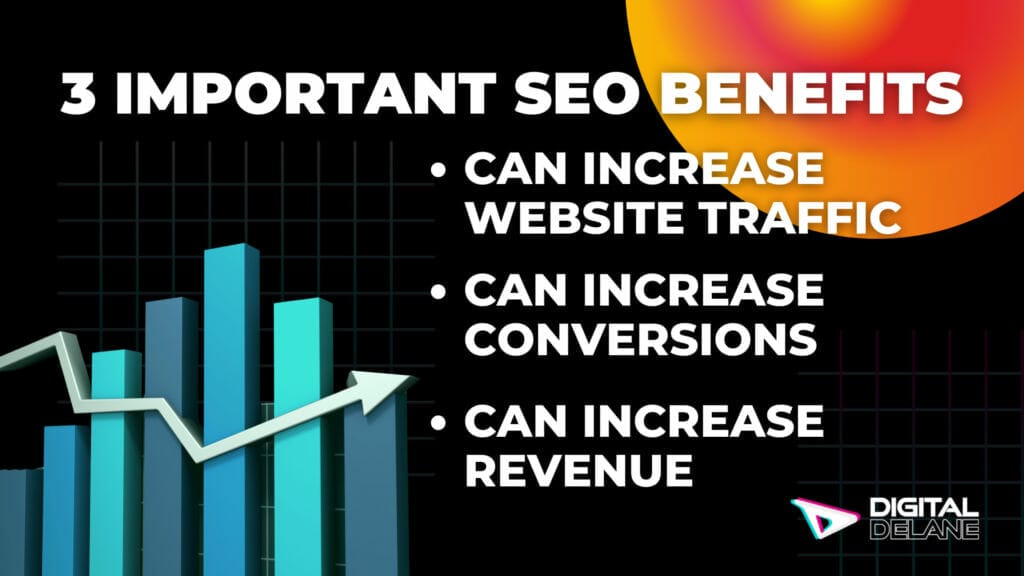 While it doesn't give you results overnight, you'll find this digital marketing strategy well worth the investment. Just take a look at these 3 case studies which gained massively during the pandemic.
As a whole, SEO consists of many micro strategies working together to make your marketing campaigns a success. Accordingly, it is best to work with a digital marketing company to get your campaigns the best results possible.
Additional benefits of SEO for SEM
Increased Traffic
Increasing the number of visitors is the best thing SEO can do for a website. Improving your web page's ability to rank higher, you'll drive more visitors to your site since they see your pages at the top of the SERPs.

Increased Conversions
It is not uncommon to see more conversions happen following an increase in site traffic. You can think of it as a domino effect of results.
The more people visit your website, the more your products and services get exposure. This means more on-site purchases from your customers.
Increased Revenue 
As a search engine marketing solution, SEO is not something you just set and forget. But if you give it time to develop, it can give you astronomical results.
After your SEO agency implements your marketing campaigns, you can expect to see an increase in your revenue in about a year.
Using both SEO and PPC ads ensures your pages are always at the top of Google and Bing. In addition, users can automatically visit your website by clicking on your ads or your organic search link on the first page of Google's SERPs.
USING PPC TO IMPROVE SEM
Part of your SEM may also include these PPC strategies:
Ads across Google Ads and Microsoft Advertising

Dedicated account manager

Custom PPC strategy

Regular reporting

Ad campaign copywriting and performance testing

Proactive bid management

Phone, lead, and revenue tracking

Ongoing keyword development, etc.
PPC is the main component in many SEM services that can help your business earn precious real estate in the SERPs while providing support in the early stages of your SEO strategy. With it, you can advertise your products, services, promotions, conversion-driving landing pages, and more with compelling ad copy. 
Benefits of PPC or Pay-per-click Ads
Surprisingly, PPC advertisements are quite inexpensive. And any digital marketing agency will tell you that. Still, even when you have a higher cost per click, properly managed ads yield a high return on investment.

Additional benefits of PPC Ads for SEM:
Produce High ROI
As stated previously, PPC ads can produce a high ROI for companies in industries where competition runs high.
If your company hired experienced search engine marketing consultants, it would be a lot easier to identify keywords and key phrases. You'll be more comfortable spending a little more on PPC ads since you know that the return will be much more likely.
With a digital marketing agency, you won't be pitching pennies at the wall just to see what sticks, you'll be using marketing strategies that work.  
Increase Your Online Visibility
With PPC Ads, your business will get more exposure online. Internet users will still see your brand name even if they don't click on your ads.
PPC ads are a top search engine marketing service for ensuring that internet users become familiar with what you have to offer, even if they're just browsing and not looking to buy right away.
For instance, if you sell HVAC units, internet users will see one of your advertisements but might not be looking to buy at the moment.
However, they might remember your brand when looking to purchase an HVAC unit since they have seen your ads in the past.
Easy to Tweak or Adjust
When managed by online marketing companies with experts at handling Google ads, PPC ads are much easier to change on the fly.
These ads can be paused, adjusted, removed, and restarted whenever you like. And thus, if a PPC ad performs very well, or not performing at all, you can adjust what you spend on it right away to meet its needs.
How does a search engine marketing agency manage your PPC ads?
A search engine marketing agency has certified specialists who can help you reach your goals. An assigned team will regularly review your ad's performance. Then, they can make changes as needed or consult with you to discuss the best course of action.
Also, you'll be provided with monthly reports on your ad performance. The assigned team will also make suggestions for future budget changes.
As part of search engine marketing services, an online marketing agency will:
recommend changes to your landing pages or the entire website that may help your ads perform better

discuss with you the additional keyword recommendations 
What is the difference between SEO and SEM?
There is a subtle difference between SEO and SEM. Generally, SEO is strictly an unpaid marketing strategy, while SEM involves both paid and unpaid strategies.
The focus of SEO is to drive organic traffic to your site. It involves optimizing your web pages to appear on the top search results.
On the other hand, SEM focuses on bringing both organic and paid traffic to your site. In other words, SEM applies both SEO and paid search strategies to bring in more potential customers to your business.
How Long Do SEO and SEM Take?
There's a big difference when it comes to how long these marketing strategies take to yield results. With SEO, it might take 6 months to a year before you can see results. In comparison, SEM gives instant results, or as soon as your paid ads launch.
In comparison, SEM gives instant results because paid ads can drive traffic immediately. That said, several factors can affect how long you might have to wait before you can see the results. It depends on how well the strategies are executed and the size of the budget.
What is Search Engine Optimization?
SEO is the practice of using different strategies to rank higher in SERPs. For example, when your website provides a user-friendly experience and adds value to your customers, Google, Bing, and other search engines will start ranking you higher in the search results.
When your web pages climb higher in the search results, the more likely you'll receive organic traffic to your website. This helps you become a valuable resource in your industry.
What are the types of SEO?
The 3 main types of SEO are:
Technical SEO

involves tweaking the technical parameters to improve a website's visibility in the search results. The focus here is to make sure it is easy for search engine crawlers to crawl and index your site.

 
On-page SEO

has to do with optimizing the pages of your website so they appeal to both users and search engines. You should pay close attention to your pages as search engines perform their ranking process on a page-level basis.

Off-page SEO is all about promoting your website through building links and brand awareness. Take note that popular websites tend to rank higher on Google than websites with less popularity. 
FAQs on Search Engine Marketing
1.Why is Search Engine Marketing Important? 
Search engine marketing can help you become visible at a time when people are actively looking for your products and services in an oversaturated online market.
It allows you to target the right audience and will enable you to continually produce advertising "touchpoints" throughout the buyer journey.
Through SEM and pay-per-click management, your business will show up on the first page on Google the moment your ad is launched.
2.What does it mean to be a Google ads partner?
You'll earn the Google Partner badge if your company qualifies for the Google Agency Partner status. Obtaining the badge means you have:
Met Ads spend requirements

Demonstrated Ads skill & expertise

Maintained and continued to grow your client base and

Delivered agency & client revenue growth
3.What does it mean to be Google Ads Certified? 
Google offers professional accreditation, known as the Google Ads Certification, to individuals and agencies who demonstrate expertise from the basic to the advanced aspects of Ads. With this certification, Google recognizes you as an expert in online advertising.
4.What SEM Services do you specialize in?
Our team consists of digital marketing professionals highly experienced in many aspects of SEM. We are Google AdWords and Bing Ads "Certified Search Partners" as well. We also specialize in PPC campaign planning and bid management including:
Keyword research

Landing page optimization

Lead generation

Ad copy development & testing

Budget planning and pacing

Mobile formats

e-Commerce or shopping ads, etc.
Contact Digital Delane for the Best Search Engine Marketing Services  
With Search Engine Optimization, you'll be able to reach users searching for products and services like yours. SEO is a core component that helps generate leads, brand awareness, and revenue.
Likewise, PPC services speed up sales and revenue with highly targeted paid ads worldwide. Therefore, it is an essential search engine marketing service for those who want to drive immediate sales into their businesses.
Content marketing is another SEM service that you shouldn't ignore. This can help with building brand awareness and increasing revenue for businesses like yours. You just need to provide users with valuable blog posts and a landing page to make a purchase.
At Digital Delane, we provide SEM and SEO services such as Content Marketing and full PPC management so you can focus on what you do best, growing your business.
We have an integrated PPC management platform that makes your paid search marketing campaigns easy and efficient.
Contact us today to learn more about our Search Engine Marketing services and how our team of SEM professionals can help your business appeal to a wider audience online.