4 Strategies To Increase Your Content Marketing ROI
Why is there such a huge potential for business with content marketing? Simple. Relevant and quality content has the potential to generate massive profit when used with marketing strategies. Having said this, individuals and companies want to make sure that they get marketing ROI (return of investment) from the money they spend on it.
ROI is an essential measure of product success because it's directly linked to profit. But money won't come unless you get those clicks, views, shares, and visitors and have them converted into real profit.
This article aims to give you four strategies to increase your content marketing ROI and convert content into profit.
4 Content Marketing Strategies to Get the Most ROI
1. Create High-Quality Evergreen Content That's Search Engine-Optimized
Want fresh content that never goes out of date?
Let's talk about Evergreen Content.
Source: Cognitive SEO
Like trees with green leaves throughout the year, evergreen topics are always relevant and useful to readers, regardless of situation or season.
These are posts or pages that readers could save and bookmark. They contain topics of interest that people always search for on trusty Google. Things like:
"How to land a job," there will always be people looking for work, similar to its cousin "How to make a CV."
"How to lose weight" Isn't this a perennial problem? (Not saying it's mine!) Whether now or in 20 years, people will always want to know the answer to this problem. An example is this case study on a person's weight loss which reached thousands of shares and more than a hundred comments.
"How to earn money online" Haven't we all searched this query at one point in time?
Now compare these questions with questions like:
"Pacquiao VS Marquez" This is a boxing match in 2018
"WHO Coronavirus update" While this is relevant now, once the virus is gone, people won't care about this topic.
Evergreen content does not include: Numerical and statistical reports which quickly update and change; news articles; holidays and seasons; current fads and trends (including fashion and clothing!).
Anything written about a particular year, like elections, certain parades, and events, won't likely have that many keyword searches in Google overtime and would go obsolete in the next few months.
Of course, it's important to have evergreen topics that are relevant to your business. If you are in a flower business, you might want to talk about prolonging flower life.
Search Engine-Optimized Evergreen Content
In itself, evergreen content is already a good marketing strategy, but it will produce a more powerful and massive impact when paired with SEO (search engine optimization).
How do you do this? Base your evergreen content around keywords that you'd like your site to be associated with, and ultimately, rank on.
Find out if users do not search on your evergreen content or don't relate to your business by doing a keyword search. Identify the phrases that are most used and searched.
The goal is to find the keyword with a tremendous potential to generate traffic to your page. Look for a widely searched variation that has low competition (check your site's competitive power).
This is the ingredient of SEO success. Aiming too high will bring you face to face with search engine giants, and you won't stand a chance if you're just starting.
While optimizing for keywords is essential, optimizing across topics is an often-overlooked way to further boost SEO. Identify topics related to your best keyword or keywords and write a series of in-depth, evergreen articles exploring different aspects of each topic.
Write for Readers
Now that you've got evergreen content that is SEO optimized, you can write for your readers. Make sure to utilize best writing practices in writing web content:
Use clear and concise language.
Maximize white space.
Speak directly to the reader.
Utilize text formatting.
Avoid fluff.
Optimize for Search Engines
Now it's time to optimize your article with elements, so it's primed for search engines!
Here are some tips:
Use your keyword throughout the content. Be sure to make it natural.
Include your keyword in your page title, in at least one of your subheadings, and in your tag, meta-description, and image alt tag.
Prepare an SEO-friendly URL that would include your keyword.
Aside from your keywords, find related keywords, and use them in your content. Make it natural.
Add relevant links to other pages that are on your website.
Add outbound links to sources and relevant resources.
Doing these will not only give you relevant and timeless content, it will also ensure that your content will be a crowd favorite!
But the work doesn't stop there. You want to be certain that your content is always up to date.
2. Update Your Content Regularly
Creating fresh and relevant blogs on a consistent basis is key to a thriving site.  Having and keeping an online presence is a very effective content marketing strategy, ensuring that your content will generate that ROI.
Think of your website as a being in the internet world. A static website would be seen as "dead" – lifeless and with nothing to give.
While your website should mostly focus on evergreen topics, it's okay to occasionally write about a current trend in the interest of staying up to date. Be sure to link to several pieces of evergreen content in this article, to get readers interested in them.
You can also add references to recent events without dating a piece by including the year or date something happened instead of saying "recently," or "just last week." For example, "During the 2020 pandemic, many businesses pivoted to an online model…" This will still be relevant to an article about changing business strategies a few years from now.
Why Should You Update?
To Improve SEO
Over time, content loses its value. Search engines do their job in finding the most helpful and relevant sites for users. Search engines like Google use web crawlers or simply "bots" who are responsible for indexing sites.
The more new and fresh content your site has, the more likely a search engine will stop by your website. And when this happens, there is a greater chance for you to achieve higher rankings based on the content that you have to offer.
To Engage Your Audience Better
This is a no-brainer. Readers want updated and new information. Excellent and relevant content ensures that your audience is engaged and is likely to remain on your website longer.
Moreover, a survey from LinkedIn found out that buyers are more likely (five times!) to connect with sellers who offer fresh insights about their products.
Your audience will not only be happy, but doing this will also put you in good standing with your best friend, Google.
To Increase Your Authority Potential
The more current, timely, valuable, and relevant (to your industry) your content is, the greater authority potential you will have.
The more you produce content on a particular topic, the more you build your authority, and the more visitors will trust and listen to what you have to say.
Why is this good? The more the trust, the bigger chance that they'll purchase from you. A LinkedIn study found that 88% of buyers buy only when they deem the online seller as a "trusted advisor."
Update Old Content
Not only should you focus on creating new content, but it is also crucial for you to revisit your old content. Some information will need to be updated.
For example, if your website is about music, and you have an article about the Top Ten Pop Albums to play on a road trip, you might update it to reflect which albums won additional awards or have passed a sales milestone like so many million copies, since you originally posted the article. Or you could add a couple of new albums and make it a Top Twelve list.
Revisit your site at least twice a year, ensuring that your content will keep on providing value to your visitors. Also, updating old content takes a lot less time than writing new content!
3. Attract More Backlinks with Guest Posting
We have already tackled above how using the right keywords will improve your site's visibility.
Aside from this, using off-page SEO tactics such as guest posting is another good strategy to generate traffic and lead more visitors to your site through backlinks.
If you want to increase your website's authority, backlinks are essential. Why? Search engines use links from existing sites to discover new sites. If you don't have any backlinks, Google will find a hard time finding your website.
Once Google's bots find your site and crawl through your content, it will index your site; that is, it will include your site in the web search.
One way to do this is through guest posting, otherwise known as guest blogging. It is a process where you publish your blogs on other sites. In exchange for an article, you get a backlink from these blogs back to your website.
Alex Turnball, CEO of Groove Blog, even shared that they reached a million subscribers just through guest blogging!
Pretty neat, right?
You can place your link at various places in the post. Most place links at the end, with the author's bio. You can also place it in the body of the post, anchored to a keyword or a phrase.
You get more click-through rates with internal links as your readers are reading the blog, compared to when you provide the links after giving them all the information.
Hyperlink and Hypertext
To do a backlink, you can opt to use one of two:
Hyperlink (or merely a link), which your readers can click to lead them to another webpage. This could be within the site or outside your website.
Hypertext or anchor text is the clickable text that is connected to your hyperlink. Utilize your anchor texts by using the most relevant keyword for the link that you are providing. Anchor texts are commonly formatted as underlined blue words.
What Not to Do
Guest posting is not just submitting poorly written content with your name and with links scattered throughout the written content. That's not the way to go. You'll end up being turned down by websites in an instant. You also don't want to submit the same article to thirty different sites.
For one thing, having the exact same content on multiple sites is bad for SEO. Worse, your article may not be what a lot of sites are looking for. It may be too general, or not in line with the site's general tone or focus.
Think of guest posting as an investment of time. Consider all the sites you've identified as high-performing, then visit each website in turn. Read their submission guidelines, if they have them. Also, look at the content that's already on their site and figure out how you can tweak an existing idea to best fit in there.
Depending on the site, you may need to rewrite your content to be more serious and professional. On other sites, you might want to write something more light-hearted and humorous. Make sure your pitch not only follows any instructions provided but also includes why their particular audience will enjoy this article.
Don't get suckered by sites that write back and want you to pay for backlinks. This is common, especially for sites that rank well for a particular topic or keyword. If someone responds saying they want $200 for a guest post and backlink, just move on.
How to Do It: Getting Quality Links Through Guest Posting
Imagine that you are a rising star. You've got the skills. But no one knows you –– yet.
How do you get a crowd? Perform as a guest in another artist's show, one who already has a following and a name. What do you get? People get to have a glimpse of what you can do, AND your name gets associated with someone already famous and loved by people.
You do the same in guest posting. Write good content in a well-known and respected site with a huge following, and in no time, people will start lurking and following your site too.
How to Ensure Success in Link Building
Carefully select where you pitch.
It doesn't make sense if the site you chose to guest blog isn't related to your niche or industry.
Make sure you check the site's performance. Does the site have at least a thousand visitors every day? Are they considered an authority?
Make sure that your bio will be featured. You want your headshot and link back to your site to be there so that people can have the chance to visit your page.
Craft an impressive pitch that's impossible to ignore.
You want to make sure that you get their "yes."
How do you do that? Do your research.
Check their content. From there, see what else you can offer and add to their site. Check other guests, check their sites, and their posts.
Be direct. Get straight to the point with the editor or owner of the site and provide them an outline of what you are offering them. Review their guidelines (this is a no-brainer!) and make sure you're following them.
Write a guest blog that will get people crowding your website.
Know your audience. Give them what they want to hear. Provide them with in-depth and thorough information. Make your writing catchy but concise and straight to the point.
Funnel your readers towards an outcome.
You might be tempted to directly link them to your website's homepage with the bio (cause most likely, webmasters will allow you to put in a link back to your site, usually your homepage).
While you can do that, you can also think of an outcome you want your readers to do. Do you want them to subscribe or sign up for your newsletter or follow your blog? Then link them there instead.
4. Define How Your Content Integrates into Your Sales Funnel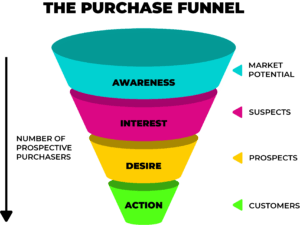 How else can you optimize your content's ROI?  Plainly put, you want your content to generate results that matter – like traffic, sales, and leads.
You want to turn your browsers and visitors into purchasers. And you do that by leading them into a purchase.
How? Through a sales funnel.
A sales funnel is a multi-step process that leads your visitors from an entry point to the end of the process, which consists of them taking action, like completing a purchase. It's much like a real funnel.
All kinds of content, from blogs, videos, email copy, podcasts, and everything in between, are geared towards attracting potential buyers. And however way they get to your page will have an impact on the success of your funnel.
However, the reality is that most prospective buyers won't buy your product instantly, especially if they only heard of you today. It takes time. That is why a funnel follows through a process, where connections and various experiences happen in each step of the process.
Your content can be found in one of the components of your sales funnel. While a funnel's components depend on what you want to achieve, here is a summary of its four components. Check out where your content fits and how you can integrate it into that component better.
Awareness
Everybody starts here. Early in this journey, potential buyers have a problem, try to identify what it is, and are researching on it while looking for a trustworthy source of information.
They want content that will guide them through the topic that they are looking for. They may reach your site through the methods you employed or recommendations from friends and other people.
In here, your main goal is to make your visitors know that you have a solution to a desire, problem, issue, or trigger that they have.
In this stage, you would expect to have many people attracted since they are still looking for solutions, so employ methods to get as many people as possible. What's important in this stage is that you gain visibility and that you start collecting leads.
Interest
People in this stage are those who have the particular problem you are offering to solve. Since not all will be interested, you will expect a significant decrease in the number of your prospects.
Because of this, you may want to show off your authority, skills, and experience. You can use a combination of great content, such as free videos, free webinars, relevant blog posts, podcasts, and samples.
The key here is to show them:
You are an expert who knows how to solve their problem
a glimpse of what you are offering
A study by Marketo found that while 96% of visitors are not likely to buy anything from your website, they may be willing to provide you with their contact information in exchange for something relevant and valuable.
This stage is crucial in the funnel and links steps 2 and 3. Once you have their emails, you can send an email or two. Don't hard sell. You want to exhibit genuine interest in providing value to them. You may consider offering something in exchange for a subscription, like a free ebook or a discount code to use on a future purchase.
What about pop-ups? Some sites use these to encourage email newsletter subscriptions, but be very careful when considering them. In most cases, they can hurt your standing with Google, and worse, they tend to annoy your readers. Do you usually want to subscribe to a site's newsletter before you've even had a chance to read more than a few words of text on the homepage? Probably not, but that's what a pop-up is asking your readers to do. For most websites, it's better to have a visible link to the signup page, clearly stating the benefit of subscribing ("Click here to get our free ebook on Home Decorating Tips for Tiny Houses when you subscribe," etc.).
Decision
Prospects in this stage are already serious about what you have to offer. In here, you can use email sequences to influence their decision.
You can also send some relevant content such as case studies and testimonials if you think it would help make them reach a decision.
Retargeting, a form of online advertising where people who have visited your site are shown ads for the products/services they viewed on other sites, is another good option for this stage. For example, if someone on your site looks at a t-shirt you're selling, they may see ads for that same shirt the next day when browsing Facebook.
Action
All the previous stages are geared to bringing them to this stage where they are converted from prospects to buyers. This phase is where the prospects are expected to do the desired action.
Once they make the purchase, you may want to upsell (upgraded version of what they bought) or cross-sell (offering related items).
It's essential to integrate your content into one of the four steps above to ensure that you are using most of its potential. If you already have content, you may want to revisit them and ensure that they fit into your sales funnel. By doing that, not only are you optimizing your funnel, you are also making sure that you get the ROI from your content.
For example, if you have an electronics store, you will probably want to cross-sell a lot of related items when someone purchases a new computer or tablet. Related products, like cases, software, extended warranties, or mice and other peripherals, often have higher profit margins than the electronics themselves. They also help the customer get the most out of their new product, increasing satisfaction—and the likelihood they'll return to your store in the future.
In this case, your evergreen content might include articles on things like, "Choosing the Right Software for Your New PC," "The Best Protective Cases for Your New Tablet," "Pros and Cons of Extended Warranties on Electronics," etc.
Final Words on Content Marketing
Content marketing is indeed hard, complex work, but it is the single most important ranking factor to get natural, organic traffic. It takes a lot of skill to produce optimized content that can get you ranking in Google and thus start driving more visitors to your site.
Let Digital Delane do your content marketing for you. As your content strategist, these are the things we will do for your business:
Position and establish yourself as THE authority and expert in your chosen niche or industry. This will not only gain your visitor's trust but ultimately lead to traffic and sales.
Have good, carefully made, timely, and relevant content. This won't only make your audience happy, but even Google happy!
Have your audience in mind. And this doesn't just mean that you consider them. Show them genuine care and make sure that you provide them great value.
Contact us today to start fully utilizing the power of relevant content!