Inspiring Real Estate TikTok Ad Examples to Elevate Your Digital Marketing Game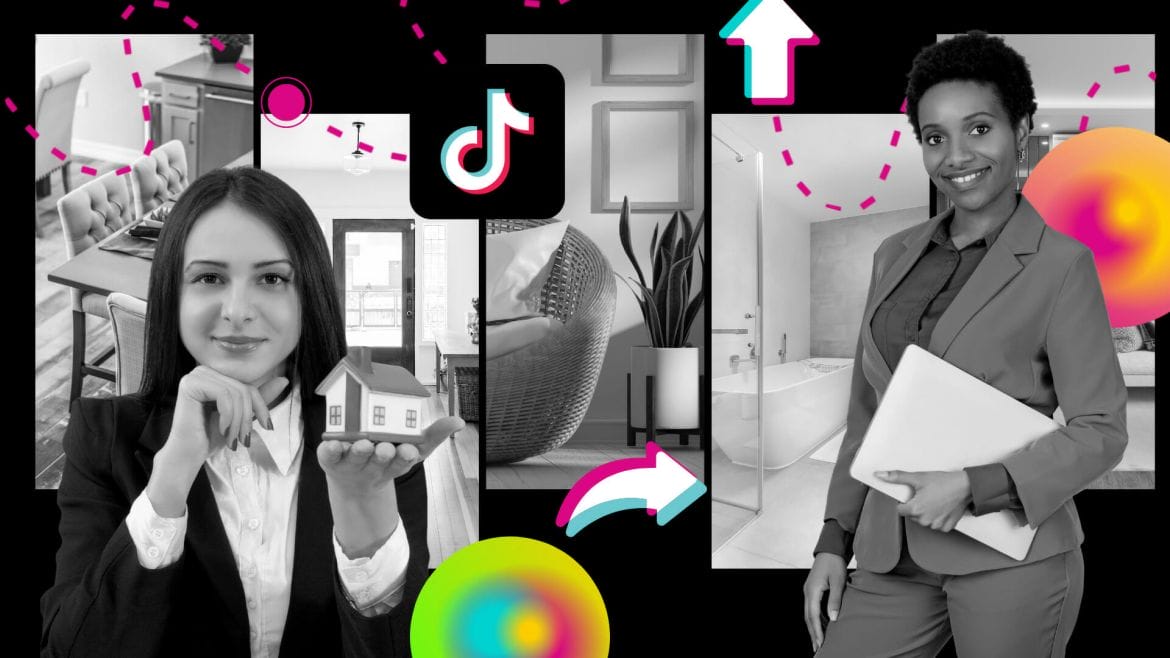 One industry that has an increasing online marketing presence is real estate.
According to a poll from Zillow, 36% of Americans were willing to try and buy a home entirely online during COVID and 43% of realtors were willing to try and sell a home entirely online.
While social media platforms like Twitter, Facebook, and Instagram are the first ones you may go to when trying to expand your online presence as a realtor, there's a way you could get even more tech-savvy for your leads. This is especially true during a time where e-commerce in general has skyrocketed. This is where TikTok enters the conversation:
"TikTok is the leading destination for short-form mobile video. Our mission is to inspire creativity and bring joy."
Even for the real estate market.
One billion monthly active users

50 million daily active users in the U.S. alone

Three billion downloads

7th ranked social media app in 2021 after only being released 5 years earlier
TikTok is a great platform for real estate professionals because it makes it easy to generate exposure and engagement far beyond your immediate network of friends, family, and colleagues. This makes it a great tool for digital marketing because you will reach a wider variety of people. Even if it looks like another app that young adults go on when they're bored and have nothing better to do, it is actually an invaluable tool for brand awareness.
TikTok's "for you" page displays content to users based on their previous engagement, otherwise known as an algorithm. This means that users don't have to be following you in order to see your content, making it easier for your content to build momentum and reach hundreds or even thousands of users. This is a feature that Facebook doesn't have and that Instagram is still working on perfecting. TikTok focuses on your existing audience while also being structured in such a way so you'll reach new audiences without spending too much money on advertising. On TikTok, your videos will be shown to users based on criteria such as their previous engagement, region, interests, and search history.
Some ideas when using TikTok for real estate include but are certainly not limited to:
Property tours

Property listings

Do's and Don'ts as a real estate agent

Day in the life of a real estate agent

Tips and Tricks for networking and building your real estate business

Common mistakes in the industry

What X amount of money can get you in this city
Make sure to stay on top of TikTok trends, which change almost on a daily basis. Staying on top of trends can be helpful with getting more views. If you notice a certain song or sound is trending, find a way to work it into your brand awareness strategy. For example, using that song in a property walk-through video. Focus on your target audience as well. Your target audience will depend ideally on your location and the types of clients you look for.
Success stories in TikTok real estate
1. Madison Sutton is an agent in her mid-twenties. Residing in New York City, she specializes in what she likes to call "hidden-treasure apartments." She has been featured on CNN, Fox, and Bloomberg due to her success in turning her business around during a time when no one was getting together in person. She discussed how she has used social media, particularly TikTok, to leverage her real estate leads. She has no expectations for TikTok, especially not for real estate during a pandemic. However, once she got her TikTok account going (@TheNYCAgent), the amount of inquiries and levels of interest in her properties skyrocketed when she started posting apartment tours. According to CNN, 100% of her business now comes from TikTok.
2. Heider Real Estate has also had tremendous success in using TikTok to show off different listings. At 3.4 million followers on TikTok (@heider_realestate), Daniel Heider uses trending songs and sounds to his advantage when displaying a property to make it more entertaining and interesting to look at.
Here are some clever examples:
3. Your content doesn't have to be geared only towards real estate leads. You can mix it up by making both real estate videos and making fun, humorous, personality-filled videos to keep your audience entertained. One prime example is @RealtorCallan who showcases properties while sharing with her audience a peek into her real life with more authenticity in her videos. She'll post some light-hearted content about her husband and kids while balancing it with real estate content. She also does a fantastic job at leveraging TikTok trends and sounds and relating them to random real estate situations she has been in, and then occasionally posting a property tour video to keep things real.
Examples:
4. Real estate investor Stefanie Kebede is another great example of how to navigate the real estate industry on TikTok. @stefaniekebede utilizes TikTok to create humorous real estate content, offer educational advice on the industry, as well as talk about her own experience in real estate. She even created a series of videos detailing what million-dollar houses look like in different cities across the country. This is a great example if you want to try and target a specific niche in the real estate industry, but it's also a great way to attract a more general audience with potential home sellers or buyers.
Check out some of her videos:
These people only scratch the surface of the real estate content produced on TikTok. Feel free to do your own research to find more examples of what you can create on TikTok as a realtor, because the possibilities are endless in the TikTok real estate community.
Here are some other real estate creators to check out: