Social Media Marketing: The Importance of Strategy & Agility
Social media marketing has become an indispensable business tool in the digital era, where trends and technologies constantly evolve. The importance of strategy and agility cannot be overstated in this fast-paced landscape. To effectively harness the power of social media marketing, it's essential to understand how these two factors intertwine and shape how brands engage with their audiences.

Social media has transformed the landscape of digital marketing in profound ways. With its extensive reach, engagement potential, and unique characteristics, it plays a pivotal role in modern marketing strategies. The implication of social media in digital marketing, its role in content creation, and how it helps marketers reach their target audience.
Enhanced Brand Visibility: Social media platforms provide a global stage for businesses to showcase their products and services, improving brand visibility significantly.
Customer Engagement: Direct customer interaction allows brands to build relationships, gain valuable feedback, and establish trust.
Cost-Effective Marketing: Compared to traditional advertising, social media marketing is often more cost-effective, making it an attractive option for businesses of all sizes.
Data-Driven Decision Making: Social media analytics tools offer valuable insights, enabling marketers to effectively refine their strategies and target the right Audience.

Content Distribution: Social media platforms are powerful channels for sharing various content types, including articles, videos, infographics, and more.
Trend Discovery: Marketers can Identify trending topics and adapt their content to current interests and discussions, increasing the chances of engagement.
User-Generated Content: Encouraging user-generated content, such as reviews and testimonials, is facilitated by social media, which adds authenticity to the content.
Visual Storytelling: Platforms like Instagram and Pinterest prioritize visual content, encouraging creative storytelling through images and videos.
Social media is your superpower for reaching your ideal audience and crafting a digital marketing strategy for your business.
Precise Audience Targeting: Social media platforms offer detailed targeting options, allowing marketers to reach specific demographics, interests, and behaviors.
Personalized Content: With data on user preferences, marketers can tailor content to resonate with the unique interests of their target audience.
Real-Time Interaction: Immediate feedback and interactions enable marketers to adjust their strategies and offerings based on real-time audience responses.
Word-of-mouth Marketing: Social media facilitates the spread of recommendations and referrals, helping brands tap into the power of word-of-mouth marketing.
The importance of agility in social media marketing lies in its ability to navigate the dynamic digital landscape effectively. Being agile enables quick adaptation to changing trends, timely responses to audience needs, and the efficient utilization of resources, ultimately driving better results, stronger brand-customer relationships, and overall marketing success.
Benefits of Embracing Agility in Digital Marketing:
Faster Adaptation: Agility allows marketers to swiftly adjust to changing trends, audience behavior, or industry developments.
Enhanced Customer Engagement: Being agile enables real-time interactions and engagement with your audience, fostering a stronger brand-consumer relationship.
Cost Efficiency: The ability to pivot quickly can reduce wasted resources on outdated campaigns or strategies that aren't working.
Competitive Edge: Staying agile puts you ahead of competitors who may be slower to react, helping you capture market opportunities.
How Agility in Marketing Strategies Improves Results:

Optimized Content: Agile marketers can tailor content to be more relevant and timely, increasing its effectiveness.
Improved Campaign Performance: Quick adjustments and A/B testing can help refine campaigns for better ROI.
Data-Driven Decision Making: Agile strategies are often driven by data insights, ensuring a more targeted and successful approach.
Responsive Customer Service: Agility facilitates swift responses to customer inquiries, resolving issues efficiently.
The impact of agility in social media marketing is profound, enabling businesses to seize new opportunities and adapt to shifting market dynamics.
Amplified Brand Awareness: Timely and relevant posts can increase brand visibility and recognition.
Growing Audience Trust: Consistent, agile responses build trust and credibility with your audience.
Enhanced ROI: Agility reduces the risk of wasting resources on ineffective campaigns, leading to a better return on investment.
Adaptation to Algorithm Changes: As social media algorithms evolve, agility allows marketers to adapt and maintain reach and engagement.
In today's fast-paced digital landscape, agility is vital for social media marketers aiming to stay relevant and responsive. An agile social media marketing strategy empowers marketers to adapt swiftly to changing trends, engage effectively with their audience, and outmaneuver competitors. 
To achieve this, there are crucial elements to consider, tips for agile content creation and distribution, and a compelling rationale for adopting agile marketing practices.
Data-Driven Insights: Collect and analyze data to understand audience behavior and preferences, allowing for informed decision-making.
Flexibility: Be ready to pivot and adjust your strategy based on real-time feedback and emerging trends.
Collaboration: Foster effective communication and collaboration among team members to enhance responsiveness and creativity.
Content Calendar Optimization: Create a flexible content calendar that allows quick adjustments while maintaining consistency.
Testing and Iteration: Experiment with different content types, posting times, and formats, and continuously iterate based on performance data.
Monitoring and Listening: Employ social listening tools to stay in tune with what your audience is saying and reacting to in real time.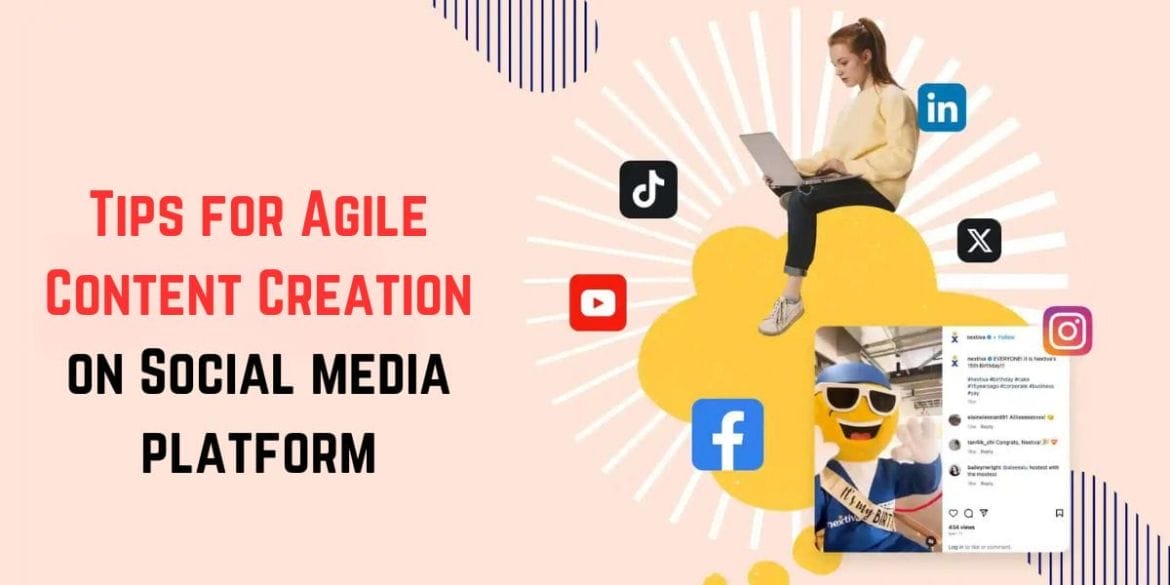 The art of creating agile content that adapts to ever-changing audience needs and market trends for digital success.
Content Templates: Develop adaptable content templates that can be customized to fit trending topics or themes.
Real-Time Engagement: Monitor comments, messages, and mentions and respond promptly to engage with your audience.
User-Generated Content: Encourage your audience to create & share content linked to your brand, which can be a valuable reference for authentic content.
Live Streaming: Live videos and stories provide real-time updates and behind-the-scenes insights.
A/B Testing: To optimize performance, experiment with different ad copies, visuals, and CTAs.
Automation Tools: Utilize automation for routine tasks but maintain a personal touch for genuine interactions.
Why Marketers Should Use Agile Marketing to Stay Ahead of Competitors:
Adaptability: Agile marketing enables rapid adaptation to market shifts, making it easier to seize opportunities and address challenges as they arise.
Improved ROI: Real-time optimization and data-driven decisions result in more efficient and effective marketing campaigns.
Customer-Centricity: Agility allows marketers to align their strategies more closely with customer needs and expectations, enhancing customer satisfaction and loyalty.
Competitive Advantage: Marketers who embrace agility stay ahead of competitors who are slow to respond to changing dynamics in the social media landscape.
Innovation: An agile approach encourages creativity and innovation, which can lead to breakthrough campaigns and brand differentiation.
In 2023, social media marketing is poised for significant transformation. Anticipate a dynamic landscape characterized by emerging social media marketing trends and pivotal developments shaping how businesses engage with their audience and promote their brands on digital platforms.
Augmented Reality Integration: Expect more AR features on social platforms, providing immersive brand experiences.
Niche Platform Growth: Smaller, specialized social media platforms will gain prominence as brands seek targeted audiences.
Video Dominance: Video content will continue to reign supreme, with shorter formats and live streams becoming popular.
Privacy and Data Concerns: With rising privacy concerns, marketers must adapt strategies to ensure data protection and build trust.
User-Generated Content: Brands will continue to harness user-generated content to foster authenticity and engagement.

Diverse Influencer Ecosystem: Influencers will diversify, including micro-influencers, nano-influencers, and experts in various niches.
Long-term Partnerships: Brands will focus on building long-term relationships with influencers, shifting away from one-off collaborations.
Transparency and Authenticity: Influencers who maintain authenticity and disclose partnerships will be highly valued.
Impact on Purchase Decisions: Influencer marketing will increasingly influence consumer purchase decisions across various products and services.
Performance Metrics: The focus will shift to more precise ROI measurements for influencer campaigns.
One of the most revolutionary changes brought about by the digital era is the incorporation of artificial intelligence into marketing.
Content Personalization: AI algorithms will drive content personalization to enhance user engagement and satisfaction.
Chatbots and Customer Service: AI-powered chatbots will handle routine customer service inquiries, improving response times.
Ad Targeting and Optimization: AI-driven ad platforms will refine targeting, making campaigns more efficient and cost-effective.
Data Analytics: Advanced AI analytics will provide valuable insights into customer behavior and preferences.
Predictive Analytics: AI will enable predictive marketing strategies, forecasting trends and customer needs.
In the ever-evolving marketing landscape, the potential of social media as a powerful tool cannot be underestimated. To harness its full potential, marketers must venture beyond traditional strategies, leverage newsletters effectively, and explore collaborative opportunities with other brands and influencers.

Diversification of Content: Traditional social media marketing often focuses on the basics, like posting regular updates and engaging with followers. To unlock its full potential, marketers must explore a more expansive range of content types, such as videos, stories, and interactive polls.
Niche and Trend Analysis: Going beyond the obvious and delving into niche markets and trending topics can give your brand a unique edge. Identifying emerging trends and understanding specific audience interests can significantly enhance your social media marketing strategy.
Community Building: Foster a sense of neighborhood and belonging among your followers. Creating an environment where your audience feels valued and connected can generate long-term loyalty and advocacy.
Identify the effectiveness of newsletters in social media marketing. Discover how to use newsletters as a powerful marketing tool.
Targeted Communication: Newsletters offer a direct line of communication to your audience. Use them to deliver exclusive content, promotions, and updates to a select group of subscribers who have expressed interest in your brand.
Data Collection and Personalization: Gather valuable data from newsletter subscribers to tailor content and offers to their preferences. Personalization enhances engagement and conversion rates.
Conversion Funnels: Incorporate clear calls to action in your newsletters. Whether it's encouraging readers to visit your social media profiles or make a purchase, newsletters can drive conversions effectively.
Why Marketers Should Consider Collaboration with Other Brands and Influencers:
Discover the dynamic world of influencer marketing and its remarkable impact. Find how influencers drive engagement, build trust, and amplify your brand's reach. Know the power of influencer marketing for businesses effectively connecting with their target audience.
Expanded Reach: Partnering with other brands or influencers allows you to tap into their conventional audience base, providing exposure to a broader and potentially more receptive audience.
Credibility and Trust: Collaborations can enhance your brand's credibility and trustworthiness. Being associated with reputable partners can positively influence how your brand is perceived.
Diverse Expertise: Working with influencers or brands from different niches can bring fresh perspectives and expertise to your marketing efforts. It can also lead to innovative and unique content.
Cost-Efficiency: In some cases, collaboration can be more cost-effective than traditional advertising. You may trade services or products rather than spending a significant budget on advertising campaigns.
Conclusion:
Social media marketing is an essential part of any modern marketing strategy. However, it is important to remember that social media is a constantly changing landscape. What worked yesterday may not work today. That's why it is so important to have an agile and adaptable social media strategy.
A well-defined social media strategy will help you achieve your marketing goals and objectives. It will also help you ensure you are using the right platforms and creating the right content for your target audience.
If you need help developing or implementing an agile social media strategy, contacting Digital Delane is highly recommended. We are a team of experts who can help you create a custom strategy that is tailored to your specific needs and objectives. Visit Digital Delane's website today to learn more about our social media marketing services and to schedule a free consultation.