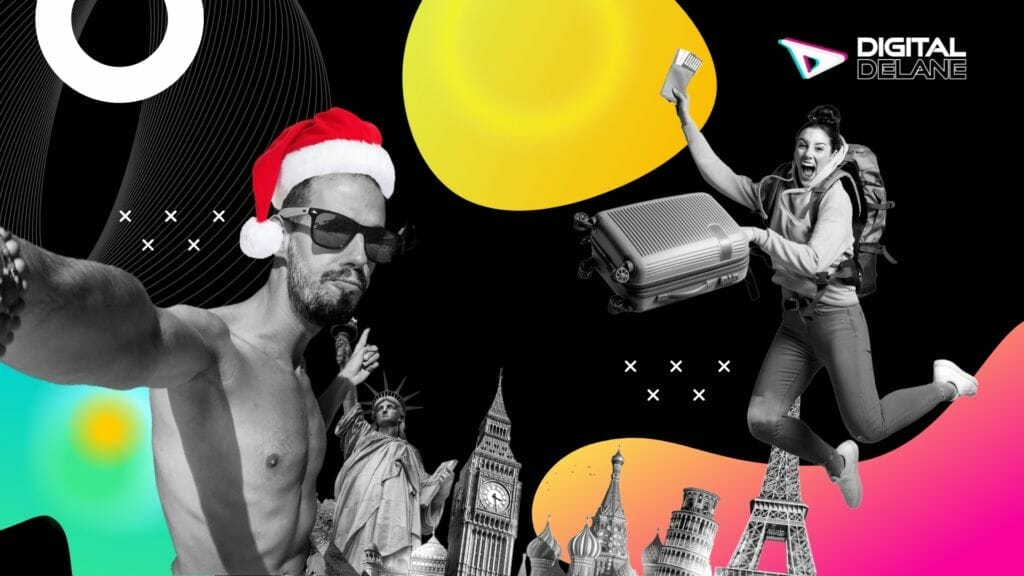 Ways To Use Social Media To CREATE More Customers This Holiday Season
Is it time for holiday cheer again? Where did the year go?
The end of the year can creep up on you, but now is the ideal time to start planning your holiday social strategy. In 2021, Statista found that 43 percent of shoppers planned to begin their holiday shopping by the end of October, while another 25 percent said they would start before Thanksgiving. How does that translate to this year?
There are some indications that inflation will reduce consumer spending in 2022, with 52 percent of shoppers saying that inflation will make it harder to afford the holidays. The season's projected growth is being attributed to the same inflationary price increases, not a jump in sales. At the same time, buyers trying to save money often start shopping around early to find the best deals, even if they wait until later to make a purchase. If you hope to swing buying decisions your way, consider these tips for using social media to create more customers this holiday season:
Map out the rest of the year in weeks and months, remembering that the end of November has several important holiday shopping dates:
Black Friday is November 26
Small Business Saturday is the following day, November 27
Cyber Monday is November 29
Giving Tuesday is November 30
Many businesses find that most or all of these dates are important. Most retailers sell online, and even eCommerce-only stores run specials on Black Friday to compete with brick-and-mortar stores. Some companies run a Giving Tuesday promotion where they donate a certain percentage of each sale made to charity.
Create a Sense of Urgency for the Customer
If you're going to do a Cyber Monday special, make it distinct from the online discounts you offered on Black Friday and Small Business Saturday. A special that runs on for several days loses the shopper's interest fast – they think they can return to it later and then they promptly forget. By creating a series of specific, one-day-only deals, you'll keep consumers coming back to your social pages each day for new deals, and you'll encourage them to make a purchase immediately when they see a good price on something they want.
Learn from Your Followers
It's more important than ever to open a dialogue with your target market. This can include both actual conversations with customers on social media, and analysis of data gathered on each platform.
For the former, consider a daily poll or "question of the day." This should be a mixture of fun, relevant queries, and questions about the audience's interests. For example, you could ask what holiday coffee flavors are favorites, or what the best holiday song is. For more research-focused questions, you might ask:
If you were making a holiday makeup palette, what shades would you choose?
How soon do you plan to finish your holiday shopping this year?
Do you plan to do most of your holiday shopping online, in-store, or a combination?
How often do you buy personalized gifts for the holidays?
Use Data for Personalization
Consumers, particularly those who shop online – in other words, most people today – expect personalized ads and retargeting. Shoppers today usually welcome these custom ad messages – so long as they're accurate. No one wants to be bombarded with ads for something they will never buy. Instead, shoppers want discounts on items they plan to purchase anyway – but retargeting ads only sometimes get this right.
If your retargeting often misses the mark, a digital marketing agency may be able to help by digging deeper into your data for more insights. For example, if your retargeting ads have a relatively low rate of return, you may be drawing in a lot of people who are looking for something else. Often the solution is an SEO audit and A/B testing of new keywords to attract the right customers.
Mine Your Email List for Valuable Data
If you have an email list, send your subscribers a survey now. You might ask about how and where they plan to shop, what they want to buy, or what would help improve their holiday shopping experience. Then use the data gathered to segment your subscriber list and send customized emails to each segment. Email subscribers also love to get special offers just for them, so consider creating coupon codes for limited-time offers you can send to your list.
Give Back to Your Customers
You've heard the 80/20 rule before. Maybe you do 70/30 in your business – the exact ratio is less important than making sure most of your content is either informative or entertaining for your target audience. During the holidays, people are busy, stressed, and may have less time to relax and scroll through social media. Focus on making most of your content helpful. Choose topics that are relevant to your audience and relate to your industry. Here are some ideas:
If you're a food or beverage company, you could offer quick recipes for last-minute holiday get-togethers. Think of relatable titles like, "What to Make When You Totally Forgot the Office Holiday Potluck Was Tonight."
If you're in the health and wellness sector, you could post tips on how to relax or reduce stress during the holidays. Think of titles like, "Deep Breathing Techniques for When Your Relatives Bring Up Politics at Thanksgiving Dinner," or "Dance Workouts You Can Do While Wrapping Packages."
If you're in the fashion business, you might post examples of easy ways to make an outfit more festive or add some holiday flavor. You could also do a fun post asking to see your audience's favorite "ugly holiday sweater" pictures. If it fits your brand, you could even host an ugly sweater contest.
If you sell technology products or services, you could offer suggestions on how to save time with apps or tech hacks.
In all these situations, you've become a valuable resource for your target market – even if the resource is simply a good laugh at a reindeer sweater with blinking lights – and your followers will come back to pages they find useful.
Consider Running an Event or Campaign Throughout the Season
Events or campaigns can be online, in person, or a combination of both. You could think about doing a pop-up shop with specialized items once a week, or have an ongoing campaign where you seek user-generated content from followers. Sometimes events earlier in the season are easier for your fans to attend in person – for example, you could schedule a holiday fashion show early in November, or do a live holiday baking how-to video on Instagram.
Make a Series of Short Videos
Thanks to TikTok and Instagram Reels, videos of less than 60 seconds are very popular right now. About a quarter of the highest-performing videos on TikTok fall between 21 and 34 seconds, so give some thought to how your brand might use this format to build momentum this holiday season. Here are a few ideas to get you started:
This is a good length for demonstrating a product in different locations or use cases.
Check TikTok's trending audio to see what holiday songs are popular and ask yourself if any of them fit your brand personality.
Encourage user-generated content by asking followers questions about what they're doing this season. For example, you could ask for videos using prompts like, "Show us your face before and after your first cup of cocoa for the winter season," or "That look when someone asks you who ate the last holiday cookie."
Have fun with filters – often these make the video, and most platforms introduce holiday or winter filters like falling leaves or snow, or adding reindeer ears to a subject's head.
If you can, come up with a theme for the video series. It can be something silly like, "Dancing through the holidays" or a more serious topic like, "Photography tips for end-of-year parties."
A brief, personal story can be very effective, as long as it's authentic. Don't make something up for heart emojis, but if you have a genuinely moving story that relates to your brand or what inspired you to start your business, now might be a great time to share it. You can weave it into a broader topic that invites conversation, such as, "What are you thankful for this year?"
Trying some new ideas for the holiday season is great, but you don't want to lose the progress you've already made throughout the year. You can add some techniques without getting rid of everything that works. For example, if you've been doing a #WednesdayWisdom post every Wednesday, you should keep it up, even if some of your wisdom is holiday-themed. If you planned a series of interviews or behind-the-scenes videos, work them into your end-of-year social calendar.
If you need assistance with data analysis, planning a holiday campaign, content production, SEO, or other aspects of social strategy, Digital Delane is here to help. Please contact us for a free consultation to learn more about using social media creatively this season.