As a real estate professional, you want your business to grow. Who doesn't? But growing a business often involves marketing.
So how can you allocate time for marketing when you're in a highly competitive industry that keeps you busy all the time?
Your best option is to outsource your marketing plans and strategies, which can only be possible when you hire the best real estate marketing companies today. Read on to know more about how outsourcing can supercharge your marketing efforts by taking a couple of responsibilities off your plate.
Why Hiring Real Estate Marketing Agencies Beneficial for Real Estate Agents?
These days, most property searches are done online. Still, one study suggests that more Americans turn to real estate agents when they are ready to purchase a property. Here are some of the benefits your real estate company could experience when you hire a real estate marketing agency.
1.  Save Time
The top real estate marketing companies can promote your business in less time since they know a faster method of reaching your target audience. As a result, you'll have more time showing to clients the properties you're selling instead of generating leads for your business.
2.  More Exposure
Online marketing allows you to widen your overall reach. And as well as target the right audience for your real estate business. Digital marketing provides several ways to reach and attract your potential clients.
3.  More Qualified Leads
The top real estate marketing companies use online marketing tools to attract qualified leads to your business. This way, you don't have to generate leads on your own.
Using inbound marketing tools helps increase conversion rates in the most organic or natural way. This is because many customers are actively searching for the right real estate marketing company to help them
4. Increased Client Engagement
With digital marketing, your brand provides value to your clients and turns them into loyal customers. As you create long-term relationships with your clients, you'll be able to secure your residential and commercial real estate company as their top choice if they want to do business with you in the future.
5. Performance Evaluation
Since online marketing for residential and commercial real estate companies can be easily tracked, you'll be able to know the results of your marketing efforts. Also, you'll know how this is helping your clients and agents in finding the right match for them.
How Can Digital Marketing Services Help Real Estate Companies Generate Leads?
Digital marketing services for real estate allow you to establish trust, credibility, and brand awareness. Since trust is known to drive revenue, a real estate marketing company can help improve your credibility to build more trust with your followers.
You can attract potential customers and drive the best results if you have a trustworthy online presence. Moreover, targeting your exact audience stimulates brand awareness, at a lower cost. Here are common online marketing services an internet marketing agency can offer:
Sellers and buyers are constantly using search terms, phrases, or keywords to find answers to their questions. According to a study, 55% of consumers use social media platforms to search for products and services online.
Social media marketing is one of the digital marketing services that connect your prospects and clients in a very unique way. Consumers can't purchase real estate through Facebook, Instagram, and other social media platforms. But it doesn't mean consumers can't use social media to actively search for properties or find real estate marketing agencies to help them.
With social media marketing, real estate companies can build trust among their customers. A real estate digital marketing agency can generate more leads for your property listings or services.
2. Google Ads and SEM for Real Estate
Google is the first place consumers and investors go to when searching for real estate opportunities since it is currently the top search engine today. For this reason, many real estate agents have advertised their websites using Google Ads to gain more leads and sales. A digital marketing agency can help you take advantage of this search engine by running effective Google Adwords campaigns that generate results.
3. Real Estate Email Marketing Campaigns
It can be tedious to make decisions in real estate. If you have many different properties to look at, remembering all the details can be quite challenging.
Luckily, you can communicate with your clients through email blasts. Statistics show that 89% of real estate agents prefer to use email to communicate with clients.
Regular updates through email marketing campaigns keep your commercial real estate business relevant in the minds of consumers. Remember, constant communication is the key to a successful email marketing campaign.
Whether you are sending your emails every week or every month, make sure to streamline your communication so that your prospects always remember your brand.
4. Residential and Commercial Real Estate Content Marketing
Content marketing is one of those internet marketing services that are also excellent at building trust. A full-service digital marketing agency can help you create high-quality, engaging content that will attract your target audience and gain new leads.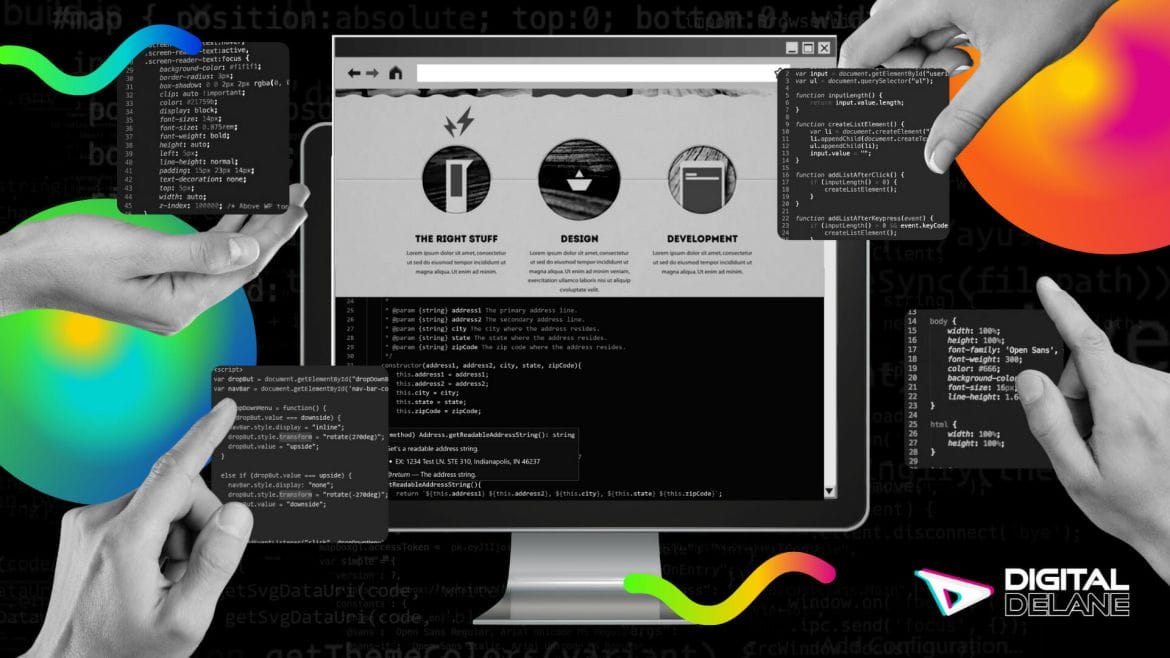 For many people, aesthetics play a huge role in real estate marketing. This is why you should also pay close attention to your web design as it plays a large part in lead generation. In the initial home search process, 76% of home buyers use their mobile devices to find websites that sell properties.
However, website design for real estate is somewhat different compared to other websites. You have to incorporate special features such as location mapping and information from third-party sites.
Also, more care has to go into both optimizing your web design for mobile devices as well as composing the site. Accordingly, commercial real estate marketing companies can help build fantastic internet marketing websites for real estate professionals like you.
Whether you want to attract the general public or attract more investors, a digital marketing agency can build websites uniquely designed for your brand.
6. Search Engine Optimization (SEO) for Real Estate Agencies
Search engine optimization (SEO) is one of the essential digital marketing services that you shouldn't ignore. A consumer report shows that a vast majority of home buyers use the internet to search for homes and more than 50% confirm that the first step in the home buying process starts with an online search.
This means your real estate website must show up when home buyers search for properties online. Likewise, it is also important that your website is optimized for the keywords that home buyers search for, which puts your real estate business on top of all search engine results pages.
You need real estate SEO because it puts your real estate company on the first page of Google and other search engine search results. Note that most internet users don't bother going to the second page. They typically commit to any real estate company found on the first page of the search results.
One benefit of SEO is that it lets you track down what your target audience is looking for online. The best real estate marketing company will help you use the right keywords and generate quality content for your real estate website. Again, never skip on SEO as it is one of the best digital marketing services that improve lead generation and traffic growth.
7. Pay-Per-Click (PPC) and Paid Advertising
With Pay-Per-Click (PPC) management, you can drive immediate traffic to your real estate website. Most PPC services from real estate marketing companies often include:
Keyword Research
Competitive Analyses
Geo-targeting
Landing Page Creation
Ad Copywriting and
On-going Campaign Management
The top slots on Google's search results pages are reserved for paid advertising. No matter what will appear on the organic search results, PPC ads are always displayed on top of them. This enhanced visibility for paid advertising has the power to immediately drive a targeted audience interested in purchasing a property to your site.
8. Local SEO for Real Estate Websites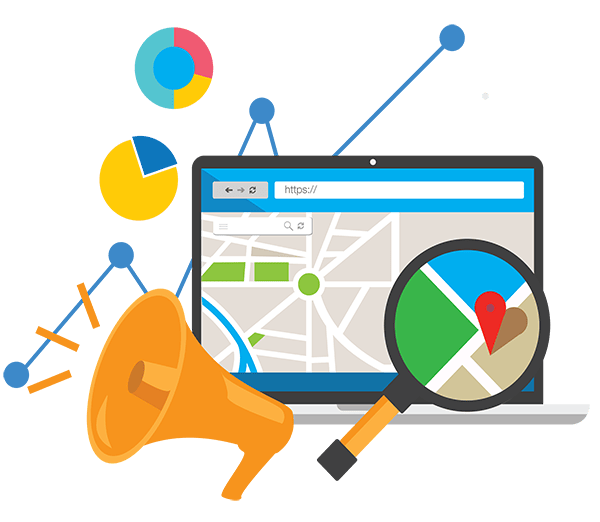 Real estate Local SEO services from digital marketing agencies can help boost your site's visibility on local search results pages (SERPs). These local SEO services include:
Running SEO audits
Optimizing your website's structure and
Registering your business with real estate-related listings and directories
Residential and commercial real estate marketing agencies have SEO experts that can build a steady stream of organic leads for your business. This will get your real estate company to be listed on Google's coveted 3-pack.
9. Video Production
Video production services use data-driven, information-rich video content that will engage your target audience and close more sales. Your preferred online marketing company should think beyond the selling points of your properties. And each video should highlight the property's lifestyle and location.
It is also important to include testimonials from satisfied clients in the video. Doing so will attract more prospects who are ready to do business with you.
Digital Marketing Strategies for Real Estate Agents
Over and over again, the lack of a clear and integrated online marketing strategy is one of the biggest issues real estate agents face today. Gone are the days when managing your marketing on a single channel platform was enough. Advertising on a newspaper or TV to get phone calls was all you needed to generate leads for the whole year.
These days, real estate agents have to deal with Zillow, social media, and other multiple channels across the internet. Each of these multiple channels has its message. And each multiple channel has to be integrated with another, making it more complicated for any realtor to handle.
But instead of giving up and missing out on the opportunities that digital marketing presents, you can make a simplified approach beginning with a solid marketing foundation. And this includes:
5 key elements of real estate marketing strategies.
1. A Real Estate Website Optimized for Mobile Devices
Today, one of the few things that make your business successful is to have a fantastic, mobile-friendly website. Your website should be optimized for mobile devices so that your followers can visit and learn more about you. And then contact you when they are ready to do business with you.
2. An Email Marketing Tool
Email marketing allows you to keep in contact with your prospects passively. With it, you are providing value to your prospects with every message you send.
This matters a lot because not every prospect who reaches out to your company is ready to make a purchase right away. And so, it is essential to have a lead nurturing system in place. Email marketing helps to continue momentum down the funnel.
3. A Simple Way to Implement Content Marketing
Content Marketing (or online content creation) is a marketing strategy that shows Google and the world that you are an expert in the real estate industry. It is a way to provide information to your followers that will assist them in the buyer/seller process. Also, content marketing strengthens the idea that you are the right expert who can help them.
4. A Social Media Channel
However, online content creation is not enough since it's just like waiting for customers to come to you. Instead, you need to actively market your brand to potential customers. And this is why you must have an active and engaging social media presence.
With a primary social media channel, you can:
Engage your followers in conversation
Create dialogues that allow followers to know more about you and not just your business and
Point your followers back to your site
5. Updated Listings and Reviews for Real Estate Agents
Giving satisfied customers a chance to share their stories with your followers is part of a successful online marketing campaign. Thus, you need a way to manage, solicit, and promote online reviews left by satisfied clients.
Keep in mind that referrals are your best source of new business. Nothing will supercharge your referral machine better than positive online reviews.
What is a Real Estate Marketing Firm?
A real estate marketing firm, agency, or company is responsible for the marketing services provided on behalf of its client, the real estate agent, firm, agency, or company. These services include:
Research
Analyses
Advertising
Branding and
Promotion
Generally, real estate marketing firms fall into 1 of 3 categories:
A full-blown marketing agency provides marketing strategies and campaigns designed specifically to your needs.
A marketing service company provides specific offerings such as SEO, website design & development, social media management, etc. It usually relies on its team to carry on and complete the tasks.
An outsourcing option is when you employ freelancers to carry out very specific marketing tasks for your business.
When to Hire a Real Estate Marketing Firm
When do you need to hire a digital agency to take over the marketing of your business? Well, there's nothing to worry about if you just started your company. Still, it will come up later on.
And so, here are a few reasons why you might want to outsource your marketing.
1. You're Looking to Grow Your Business
It might be time to consider outsourcing the marketing side of your business if its growth is stalling. Or, if you want to accelerate even if you're reaching your goals.
2. You Lack the Time and Skills in Marketing Your Business
You'll know it's time to outsource when you run out of time to accelerate your marketing efforts. If you're falling behind on your online presence, SEO, or social media, you need to hire an agency to fill those time and skill gaps.
3. You're Unsure of Your Next Move
Your company has in-house marketers or you're running the marketing on your own. Yet, you're struggling to settle or determine a bigger marketing strategy. It's a sure sign that you need to start searching for a marketing company to help you find your direction.
What to Look for in a Real Estate Marketing Company
Here are things to consider when you want to find the right digital agency for your real estate brand.
1. They Provide the Marketing Services You Need
Before hiring a marketing agency, you need to sit down with your team to determine which marketing services are extremely beneficial for your brand. These services include:
Advertising
Creative strategy
Digital marketing
Social media
PPC, etc.
Once you understand which services you need the most, you can begin searching for marketing companies that are experts in those areas.
2. They Understand How Real Estate Groups Work
Marketing agencies must understand how real estate groups work. They should know the terminologies and understand the buying & selling process in real estate. Additionally, agencies should know how to collaborate with real estate companies, agents, or realtors.
3. They are on top of the Latest Marketing Trends
The best real estate marketing firms are always on top of the latest trends in both traditional advertising and digital marketing. A good agency can spot opportunities that others fail to notice.
They can tell which platforms, channels, and mediums are most effective for marketing your brand. And they can also identify which ones are to be left out.
4. They Have Experience in Your Area
Your marketing agency must have a deep understanding of the local areas that you serve. They will likely fail if they lack that knowledge.
This is because one metropolitan area doesn't behave in the same way as another metropolitan area does. Marketing strategies that worked well in some areas might be overly saturated in other areas.
Every real estate company has its vision and so does yours. But for your vision to come true, your marketing partner must understand and support it.
The marketing agency you employ must create strategies that impact your real estate brand or business. This is why you need to make sure that you and your marketing partner are on the same page.
6. They Use Straightforward and Transparent Metrics
While you may not understand most of the terminologies used by your marketing partner, the metrics should be at least simple or easy to understand.
With this in mind, you should partner with an agency that offers a regular reporting deliverable. Or at least provide you with a dashboard that lets you see newly acquired contacts and how well they are responding.
At the end of the day, you want to check those metrics to ensure that hiring an agency to manage your marketing is worth the investment.
Partner with Digital Delane to Gain More Leads and Sales
There are plenty of testimonials online about businesses that benefited from using digital marketing services and strategies. Digital marketing does produce amazing results for a lot of real estate businesses. However, this is only possible if leveraged correctly.
Digital Delane is a full-service digital marketing agency based in Los Angeles. We know digital marketing as well as real estate. Reach out to us today so we can discuss how we can help you get found by the people who are looking for properties online.