Do you want to generate more leads through social media? With billions of people using it, it would be insane not to use social media to your business's advantage. But marketing your business on social media is not as simple as posting content and hoping to receive inquiries or close sales the following day. Worse, do it wrong and you get poor engagement or even get banned. Do you need a roadmap for navigating social media? Here are the dos and don'ts of social media marketing.
Social media marketing is an online promotional technique that allows you to interact with your target audience by leveraging the power of any social media platform. It's one of the most effective ways to market your business today because even though a website is a powerful tool for reaching your audience, social media is the best way to engage with a customer in real-time.
It involves:
creating your own account (and your own page, if you are using Facebook)
creating and posting content
engaging with other users
But this is just scratching the surface.
Social media is a great medium to reach your audience as customers are more willing to provide access to their account page than their email address.
To successfully market your product, there are different techniques and rules you should keep in mind to win a customer. Some of them have been tried and tested by businesses, while others are actual rules set by social media platforms for a more organized community.
Do Read the Platform Guidelines
Before you even create an account, it is best to read each platform's guidelines first. You want to know that your account's page and content conform to their guidelines.
How many countless times did FB ban a post, reject an ad, or even suspend an account for failing to comply with their community standards?
Don't Spam by Sending Unsolicited DMs
Do not just send random DMs. If you want to market via chat, do so the proper way with Messenger Marketing for Facebook.
Do Grow Your Audience – The Right Way
If you want your business to survive, you must use social media to build your customer list and take care of your followers. Doing so will help you reach your goals like your weekly target sales, which leads to business growth.
There are many strategies to do this. You can hold contests, offer incentives, create promotional videos, and ask social media influencers to promote your business. The more engaging and creative you are on social media, the more likely you can win over customers.
On Instagram for example, you can spy on your competitors' account followers and follow them. But before doing so, make sure you have enough content on your IG page for the followers to be interested enough. Using hashtags will also be a good idea.
Don't Ask for FB Page Likes – Ever!
If you think that asking your friends to like your company page is a way to start building a good following, then you are making a huge mistake.
Why?
When you ask for page likes from friends, they are unnatural likes and are most probably doing it out of courtesy. Thus, do not expect them to engage when they are not really into your brand.
Now when your post does not get an engagement by way of likes or comments, Facebook will start showing your posts to fewer and fewer people. You will thus have a dwindling reach.
There is also another feature when you run FB Ads – to advertise to an audience similar to those who liked your page (look-alike audience or LLA). With your "likers" not having commonality in personality or profile, using this LLA for paid social advertising WILL fail. To avoid this, you should only be asking your friends for "likes" if they are genuinely interested in the brand and can add value to it.
It is best that your page likes are acquired naturally and organically. Let a customer who is genuinely interested in your brand find you and engage with your page. When your engagement is high, Facebook will keep showing your content more.
Do Post Consistently
Your social media posts are crucial for your business's social media marketing efforts. They help you gain attention, followers, credibility, and customers. So, you should be careful with what you publish on your social media accounts.
But there's something equally important: how often you publish them.
Social media is an environment where posts compete with one another for attention. Did you know that people share a total of 48,611 photos every minute on Instagram? And 347,222 tweets are being sent out on Twitter every minute. If you only post every now and then, your content will easily get lost among the thousands shared.
If they do read one of your posts, congratulations! But they still won't remember you if you only post infrequently.
Post regularly, and your company will attract attention, gain followers, and even convert them to customers. Most importantly, they will remember you and will keep coming back to you.
So, how often should you post? Here are some guidelines to consider:
Facebook
If you depend largely on Facebook for your marketing efforts, you should not go beyond one or two posts per day, and don't go below three per week.
Also, schedule publishing your content regularly. Make sure you publish them when your target audience is most active. Otherwise, they will miss your post.
Instagram
If you want to increase your audience reach, use Instagram as well. Some people are more active on Instagram than Facebook and vice versa. So, it helps businesses to be visible on more than one social media platform.
The recommended frequency of posting for Instagram is three daily posts at the most, and one daily post at the least, alternating the use of hashtags. And just like on Facebook, it helps to publish them when you're most likely to get engagements.
Twitter
Twitter is another wonderful social platform to increase your followers. Not only does it allow you to post and share content quickly, but it also acts as a search engine tool. So, potential followers can easily search and know more about businesses like yours.
But what's the magic number when you want to increase your Twitter followers? Five tweets per day at the most and one tweet per day at the least.
Again, the best time to tweet is when your target audience is most active.
LinkedIn
LinkedIn is a powerhouse social media marketing tool. It was built to help professionals and businesses connect easily with each other. Hence, it's especially great for business-to-business (B2B) marketing.
The recommended frequency for posting on LinkedIn is at least two posts per week and one post per week if you want to remain active. Also, don't go beyond one to five per day.
Pinterest
Yes, Pinterest should be part of the list! It's versatile, it increases website traffic, and it helps you get more leads. Plus, did you know that followers who have the highest purchase intent are on Pinterest?
But how can you use Pinterest to your advantage?
The recommended minimum number of pins to post daily is four to five. The maximum number of pins you should post daily is fifteen to twenty-five.
Again, make sure your followers are online when you post them.
Try to experiment with the best time and day to create and publish pins. Make adjustments until you figure out when you're getting the most engagements. Once you know how often you should post, stick to it. For instance, if you should post four times a week on Facebook, then keep posting four times a week.
You may also use tools that will automatically release your content for you on your preferred schedule dates. This helps you remember how many times you posted on each platform that week.
There are different group boards – join the ones related to your niche. It will help you get the brand or company boost and let more readers find you.
By staying consistent, the algorithm of each social media platform will start showing your pins to other users and help your business gain more customers.
Don't Be Sales-y: What's the Best Ratio?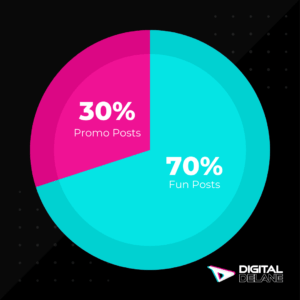 If you want to promote your company or brand, here is one of the most important tips to remember: don't be sales-y. The golden rule is that 70% of the time you should post fun, funny, interesting, and helpful posts. 30% of the time you should post promotional posts.
Funny, fun, interesting, and helpful posts can include blog posts you've written, memes, gifs, an article from another website, and discussion questions. Promotional posts can include deals on your products or services, a positive review you received, and updates on your new or modified products or services.
Why this ratio?
Readers will interact with your page more when you are not being pushy and instead just want to make them laugh or feel good. Social media channels are meant to be "social," not sales, sales, sales. Think about it, it is close to spammy. If you are being too pushy with your sales promotions, expect people to unfollow your page.
Strike the right balance, and see your page and brand marketing efforts pay off.
Do Post Meaningful Content
Social media content comes in many forms. It can be a photo, video, or just plain text. Sharing someone else's post also counts as one. The main goal of posting content is to engage and drive your target customers to purchase your product or service.
However, did you know that there are currently 80 million small businesses on Facebook? And that doesn't include the bigger and more established companies!
So, if you want to publish content, it must be meaningful enough to establish a good reputation. It must also distinguish you from other existing businesses.
Here is a simple trick: get inspiration from competitors that posted highly engaging content. How do you that? In Instagram, Pinterest, and Twitter, this task is easy, but how do you do that with Facebook?
Simply post this in your Google browser: site:facebook.com "(niche)" "(topic)" "k likes" (for thousand likes)
In this example, site:facebook.com "life coaching" "goal setting" "k likes"
Don't Use Engagement Bait Tactics
"Share this post with 10 people and get a chance to win <insert product name>."
"Like if you're a vegetarian. Love if you're a pescetarian."
"Comment "I'm interested" if you like to know more."
You've probably read these kinds of content, especially on Instagram and Facebook. They look harmless, but they are actually baiting tactics. They trick you into liking and sharing these posts – not a good strategy.
And finally, social media platforms are catching up.
For instance, Facebook is now demoting posts that use engagement bait tactics. These are turning into clutter, which leaves less space for more genuine content.
So, if you want genuine likes and shares, then work on creating meaningful content. Don't ask for likes. Make content that is good enough so that you don't have to.
Do Build Connections
Apart from creating content across your social media accounts, you should build connections with your followers. This includes answering questions related to your business, acknowledging people who share, ask questions or make comments on your posts (yes, even negative ones).
Doing so makes your audience feel they matter. In return, they will recommend your business to others, which will help you gain more potential customers.
Don't Be Like a Robot
Answering customer queries can be time-consuming. So, businesses now use automated responses to communicate with each customer more efficiently. However, responses like such can make people feel like they are speaking with a robot and drive them away.
To build authentic connections, your messages must have that personal touch. The audience will see right through your messages. So, make an effort to actually respond to them. Take time to answer questions or comments, even negative ones.
Better yet, ask a question or engage your audience so that they will respond. Things like "Post the cutest picture of your cat!"
Social media marketing takes the right brand strategy that you develop over time. If you want to grow a strong and genuine social media presence, you must make sure you know all the features of these social platforms to make the most of them. But most importantly, not knowing the guidelines can cause your page to be banned or taken down.  There have been many instances of pages being shut down and never getting them reactivated by FB and other social media sites.
Do you need some more help with social media management? Your best option is to work with social media professionals like Digital Delane. We stay updated with the most popular social platforms' best practices so that you can make the best use of their features, get the best engagement, and not risk getting banned.
Engaging professional social media strategists will also let you focus on what you do best — taking care of your business. Contact us today for a free strategy session!