WordPress Website Design Company: How to Choose the Right One For Your Business
Shoude i build my own website?


Key Takeaways
The increasing dependence on the internet for information on products or services demands every business to have a presence on the internet.

The most popular website builder or content management system is WordPress for its cost-effectiveness and simple search engine optimization.

Hiring a professional WordPress Website Design Company with the relevant technical skills can help your website rank higher and provide a positive user experience.

A full-service Digital Marketing and WordPress web design company can provide you with a comprehensive digital strategy, including SEO, paid search, and social media marketing.
The number of people using the internet to research products and services continues to grow. This growing trend makes it essential to have a website designed by experienced professionals.
When it comes to websites, the leading content management system is WordPress. Many DIY website builders indeed make it easy to design a business website. The only problem is that it can look cheap and have a terrible user experience.
It's more efficient to hire a professional WordPress web design company to optimize your website for search engine ranking pages (SERPs), clear calls to action, and sales conversions.
The answer is no, you should not build or design your own website. It is best to hire a professional WordPress website design company.
DIY website builders rely heavily on templates. If you choose to edit a template, you could find yourself with the same website as another company.
Moreover, you will be limited by the features of the website builder. Slow loading speed, user interface, and sitemap structure can result in a poor user experience.
Your website acts as your online storefront or digital salesperson. It's essential to make a good impression. If your website looks unprofessional, potential customers might get turned off and hop over to one of your competitors. Building a custom-designed website in WordPress is the way to go.
The Disadvantages of a DIY Website
Heavy Images and Videos
DIY website builders are notorious for slow image and video loading speeds. As a result, the web page shows visitors a loading screen like this: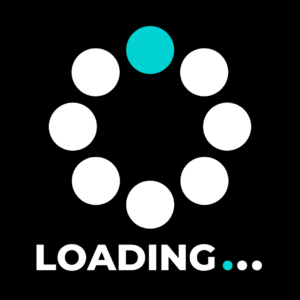 Slow loading speeds increase your website's bounce rate and hurt your organic search rankings. You also miss out on the opportunity to apply alt text to your images and increase your website's number of relevant keywords.
Poor Site Structure
If your website has a poorly structured menu, website visitors might find it confusing and cause them to leave. This will also increase your bounce rate and push you further down in the search rankings.
Limited Functionality
Most DIY website builders have limited functions. A custom website designed in WordPress can give you virtually unlimited functionality.
Mobile Version
Does your site adjust the display according to the device used? If not, then this is another reason for a visitor to leave your site.
Not Optimized for Search Engines
Search Engine Optimization (SEO) can be tricky and DIY websites are usually not optimized for search engines. It takes an entire team to help your business rank high in search engines. People rarely look past the first page. If you're not in the Top 10, then it will make it extremely difficult for people to find your business.
No Website Performance Tracking
Professional marketers can install tracking codes (Google Analytics) to get a wealth of information. These tracking codes collect data like website traffic, most popular pages, visitor's location, and a lot of essential information.
The Important Elements of a Professional Website
Page loading speed
Ideally, a good website design should load in under 3 seconds. A professional web designer achieves this through clean website code, optimized images, and by reducing the size of videos with tools such as  handbrake.fr
You can test website speed through such tools at Google Page Insights, GT Metrix, or Pingdom.com
If your webpage loads too slowly, website visitors will leave your site as we discussed earlier. Google uses your website's bounce rate as a ranking metric.
Why is a high bounce rate bad? When people leave a site shortly after finding it, Google sees it as a wrong answer to a search query. This is why web design plays such a considerable role. Optimizing loading times with compressed images or videos keeps people on your site for longer periods of time.
The most common mistake business owners make when they build their own website is adding images and videos too big in size. This slows down your page's loading speed. Hiring professional web designers and developers can ensure your website operates efficiently.
User Interface (UI)
User Interface (UX) is a design element a web design company uses to simplify a website's navigation. Having a user-friendly design improves a visitor's experience.
If the users cannot easily find certain pages or search through the website, they will most likely leave, and you lose a potential customer. With the right UX design, this will not be a problem.
Mobile-Friendliness
More people now are using mobile devices to search. With this fact, Google has made it a ranking factor in its last algorithm rollout in 2015. With this rollout, they also launched its mobile-friendliness test. Does your website design adjust its display to accommodate all devices?
Website design and development play a huge role in improving your business's online visibility. When it comes to website platforms, nothing beats WordPress. It remains to this day the most popular content management system.
Why a WordPress website?
There are many website platforms, such as Wix, Joomla, Weebly, Shopify, but all these are locked platforms. WordPress, on the other hand, is an open-source system which means your website is not dependent on any platform or website subscription.
Aside from being open source, WordPress is pretty user-friendly. Even big companies such as Disney, Star Wars, Bloomberg, even the Facebook Newsroom, have a WordPress website. The list is endless.
In fact, about 58% of business websites and blogs around the world use WordPress. A lot of WordPress web developers have also created themes to suit any blogger or any company in need of an online presence.
Reasons to Use WordPress for Website Development 

WordPress Development: Fast and Efficient
A WordPress website is easy to understand and learn, even for a non-techie or one without coding skills. While it is best to always hire a WordPress Website Design Company, the backend lets you do basic things yourself—with some guidance from your design agency.
A WordPress website is easily customizable.
There are a lot of website designers and developers who continue to build plugins, themes, or templates for specific niches.
WordPress Websites Are Search Engine Friendly.
WordPress websites are highly optimized for search engines. Most designs come with fields to implement backend SEO techniques. The user and mobile-friendly features help with the user experience. The more time people spend on your site, the higher you'll rank in search engines. This will grow your traffic and increase your leads.
A WordPress Website Won't Break the Bank
There are many free WordPress templates or website themes that allow quick design. The availability of ready-to-use apps helps web developers create your site faster, saving you time and money on website development.
WordPress also has thousands upon thousands of free plugins. This allows your web designer to customize your website based on your company's needs.
Make sure to hire a WordPress website design company with a proven track record. Ask to see their portfolio and look at their reviews. Hiring amateurs could cost you thousands and you'll be left with a dysfunctional website.
How to Choose the Right WordPress Website Design Company
Browse their website design portfolio.
A WordPress website design company with years of experience has amassed a rich portfolio. You'll be able to visit the websites they've designed and get a sense of their capabilities.
Ask a WordPress website design company about web maintenance packages.
WordPress is known for issuing regular updates. This can cause problems for your website if they're not managed correctly. Having a web design team in place to take care of these updates keeps your website running smoothly.
Ask about WordPress website hosting options.
WordPress is so popular as a content management system that there are hosting plans dedicated to it.
Aside from your web design, hosting is critical. It can determine your site loading speed, your website's security, and the bandwidth requirements of your business.
For example, an eCommerce site will have a different hosting requirement than a simple business website. The wrong type of web hosting can cause your site to load slow, or worse, it can cause your business site to crash.
A good WordPress website design company should carefully study your website and be able to advise you on what type of hosting is best.
Go with a Full-Service WordPress Website Design Company for Best Results
Hiring a professional web design agency can result in a great website. However, a full-service digital marketing agency can help accelerate your company's growth.
Paid social media ads, paid search ads and an effective SEO strategy can drive traffic to your company's website.
It can be a headache to hire a web design company, then hire a separate company for other services. With a full-service digital marketing agency, you have everything you need to grow your business.
Hire a company that has demonstrated proficiency in digital marketing, not just WordPress web design services. Each digital channel can complement the other. Therefore, it's best to create an overarching digital marketing strategy complete with an optimized website, paid digital advertising, and standalone branding.
Digital Delane: More Than Just a WordPress Website Design Company
Before you hire a web development company, here are the reasons why entrusting us with your digital marketing strategy will best to meet your business goals:
We have years of experience with WordPress Website Design
With our WordPress website design professionals, your business is in good hands.
We have a team of skilled web designers. They can create a custom WordPress site that speaks to your target audience, functions correctly, and optimized for conversions. Your business is in good hands with Digital Delane's web design professionals.
Aside from WordPress website design, we also provide web design services using other platforms.
We are more than just a WordPress website design company. We offer a wide range of digital marketing services. Each of our clients gets a customized digital marketing plan based on their needs.
We are an outbound and inbound marketing agency.
Our innovative digital strategies and tactics drive traffic to your site. We thrive in a wide array of digital channels. With our experience and your vision, we can take your business into the stratosphere.
A Shopify or WordPress website design and development is only the start to reach your business goals. To start getting traffic to your site, we also provide paid search and SEO services, to make sure that you can be found in search engines and rank for important keywords.
To find out more, schedule a strategy call today.